Top 5 Spots For An Amazing Salt River Paddle Boarding Trip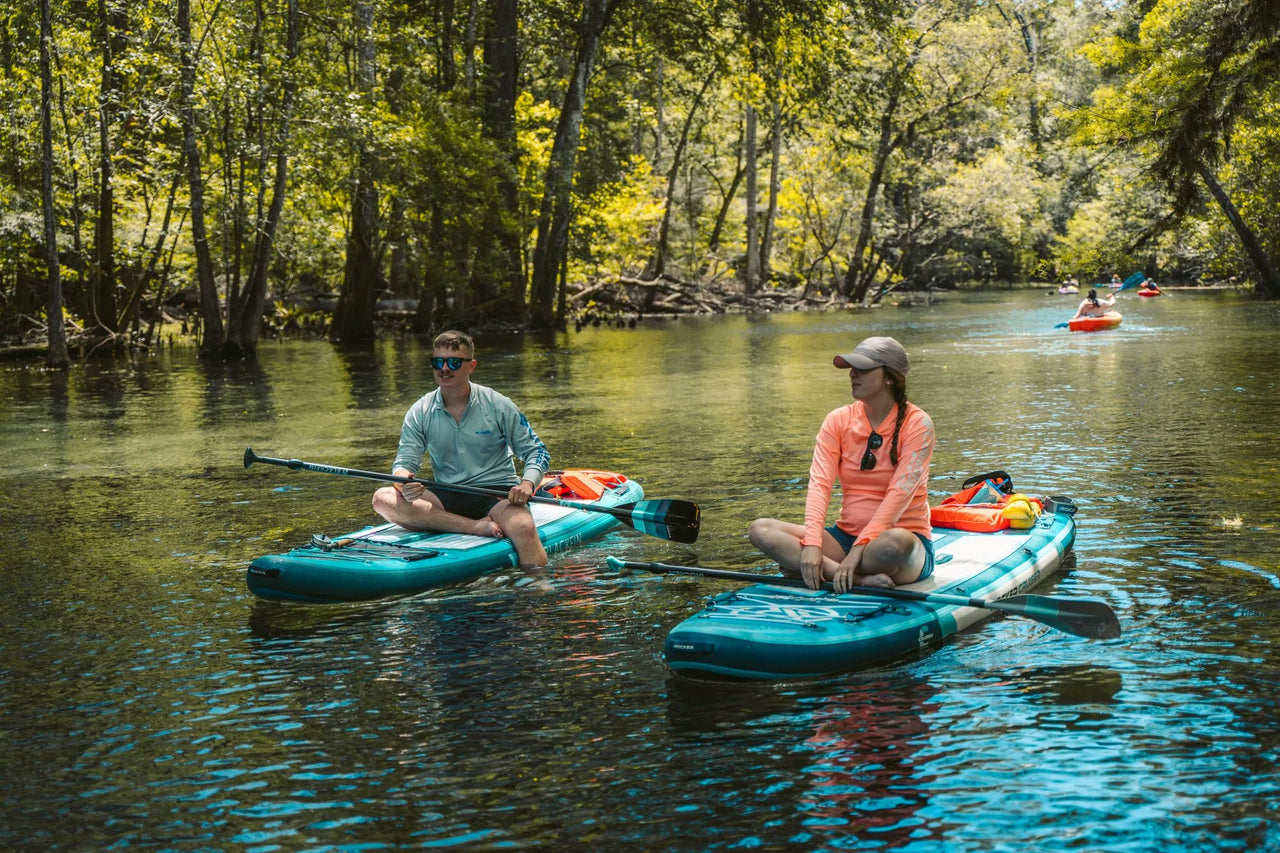 Ready for an exhilarating splash into the world of Salt River paddle boarding? Look no further! This guide summarizes everything a thrill-seeker needs to know about this captivating sport. The mighty Salt River, with its mesmerizing landscapes and crystal-clear waters, provides an idyllic setting for paddle boarding enthusiasts.
1. Lower Salt River
Experience an immersive paddle boarding safari at the Lower Salt River, a place where rolling rapids meet serene pools and wildlife thrives. As you slice through its refreshing currents, encounter scenes straight from a wilderness dream. The river transforms at dawn and dusk, hosting a wildlife spectacle starring wild horses, bald eagles, and hawks. With a backdrop of a blushing pink sky, it's a free ticket to nature's most enchanting show.
Kickstart your journey from the Water Users' Recreation Area off SR 87 Beeline Hwy, and set course for a peaceful 4-5 hour paddle to Granite Reef. It's a gentle adventure blending fitness and scenic tranquility.
2. Upper Salt River
Ready to turn up the adventure dial? The Upper Salt River is a white-water SUP enthusiast's dream. Summer here is like a wild water fiesta, with rollercoaster-high speeds and thrill-seeking paddlers buzzing like bees to honey. Launch your SUP from Coon Bluff, and hold on tight for a rapid ride that's your own water-based rodeo.
Year-round paddling? Phon D Sutton's your spot. Thanks to the Verde River's water boost, it's a winter-friendly launch with just enough kick to spice up the slower season. So gear up, because the Upper Salt River promises a paddleboard party any time of the year!
3. Saguaro Lake
Take shelter amidst majestic canyon walls, Saguaro Lake radiates an irresistible mix of serenity and enchanting allure. This man-made marvel isn't just any reservoir - it's 22 miles of cactus-dotted shoreline, ready to put on a sun-kissed show at sunrise and sunset.
Its placid waters echo a siren's call to all paddle boarders, serving as a mirror to the spellbinding desert vistas surrounding it. Saguaro Lake transcends an ordinary body of water; it's a gateway to a thrilling, yet deeply touching union with nature – a magnet for those seeking paddle board-induced adrenaline rush against a backdrop of tranquility.
⇒ Maybe you'll be interested in: Best Paddle Boards for Lakes
4. Canyon Lake
Canyon Lake, a luminous gem among lakes, lures paddle boarders with its wind-kissed waters. Its grand rock formations and the celestial canvas of shifting light across the sky create a mesmerizing backdrop. Each paddle boarding session here transforms into a scenic feast, making the SUP journey a moment of intimate connection with nature's resplendent beauty.
Canyon Lake is an open invitation to paddlers and SUP anglers. Imagine reeling in bountiful bass, tempting trout, or charismatic catfish in your very own tranquil retreat.
5. Granite Reef
Granite Reef, an unspoiled, lesser-frequented stretch of the Salt River, serves as the ideal spot for those seeking a serene paddle boarding escapade, away from the bustling crowd. Its tranquil allure invites adventurers to a quiet communion with nature, setting the stage for an exclusive, intimate paddle boarding experience.
⇒ Maybe you'll interested in: Top Spots for Paddle Boarding in San Diego
Salt River's Unique Features
Nestled within the grandeur of Arizona's captivating landscape, the Salt River unfolds a majestic tableau of mountain silhouettes and an incredible array of wildlife. Its waters, impeccably clear and sparkling under the golden Arizona sunshine, have etched their place in the hearts of paddle boarding enthusiasts.
Different sections of the river bring their own charm and challenges, ensuring an adventurous journey. Whether for the thrill of exploration or for the love of the sport, Salt River paddle boarding provides an exciting story for every adventurer.
Tips for Paddle Boarding at Salt River
Allowed Activities: Paddle boarding is popular on the Salt River, particularly on the Lower Salt River. The Upper Salt River is more suited for white-water paddle boarding and requires higher skill levels.
Launch Sites: Common launch sites on the Lower Salt River include Blue Point and Pebble Beach. You can launch from any of the recreation sites along the river​.
Rental Options: Paddle boards can be rented from businesses in Mesa or Riverbound Sports in Tempe, as there are currently no rental options directly on the Salt River​.
Cost and Permits: An $8 daily pass is required for parking, with an optional $80 annual pass. Additionally, a $4 daily watercraft sticker pass per watercraft is needed​.
Essential Items: Bring water bottles, towels, sunscreen, snacks, sunglasses, hats, sun shirts, swimwear, a dry bag, life jacket, paddle board leash, and a spare paddle​.
Preparing for a Salt River Paddle Boarding Trip
Let's gear up for an exhilarating Salt River paddle boarding adventure!
Equipment and Safety Precautions
Regardless of the location, safety always comes first:
Choosing the Right Paddle Board: Depending on your skill level, choose a paddle board that suits your needs. Beginners might opt for wider, more stable boards, while seasoned paddle boarders may prefer sleek, agile models.
Essential Safety Equipment: Never compromise on safety. An appropriately fitted life jacket is a must-have, along with a reliable safety whistle for emergencies.
Protection against the Sun: The sun's rays can be surprisingly harsh, so pack an ample amount of high-SPF sunscreen. A wide-brimmed hat and UV-protective clothing are also advisable.
Weather and Water Conditions: Stay informed about the local weather and water flow rates. Be aware of potential changes and be prepared to adapt your plans accordingly. Remember, safety first!
Can you paddle board on the Salt River?
Yes, you can paddle board on the Salt River. The best time to do this is typically from late spring through early fall, when the weather is warmer and water levels are more suitable for paddle boarding. It's important to check local conditions and regulations before heading out, as water levels and accessibility can vary.
Early mornings, preferably before 7 AM, are ideal for wildlife sightings. The park is open from 5 AM to 9 PM daily between May 1 and October 31​.
Paddle boarding on the Salt River is a dance with the seasons, each offering its unique rhythm. Revel in the tranquil charm of the early morning's calm, crisp waters. Bask in the inviting warmth of spring and early summer, those coveted seasons that clothe your watery journey in radiant hues. As the calendar flips from late spring to early fall, a mosaic of picture-perfect weather graces your adventure, setting the stage for an unforgettable sojourn.
Amidst the fervor, remember the cornerstones of this expedition: safety and a deep-seated respect for nature. Here begins your vivid journey into the heart of aquatic adventure, where each fleeting moment crafts an indelible memory. Let's make every stroke count!
Salt River Awaits!
Nothing to hesitate about! Brace yourself for an epic Salt River paddle boarding adventure that's sure to dazzle and inspire! Between the vibrant vistas and the tranquil touch of nature, a story is waiting for you at every bend in the river. iROCKER invites all thrill-seekers to splash and experience the exhilaration of Salt River paddle boarding!