Stand Up Paddle Boards
Tips for touring SUP for the first time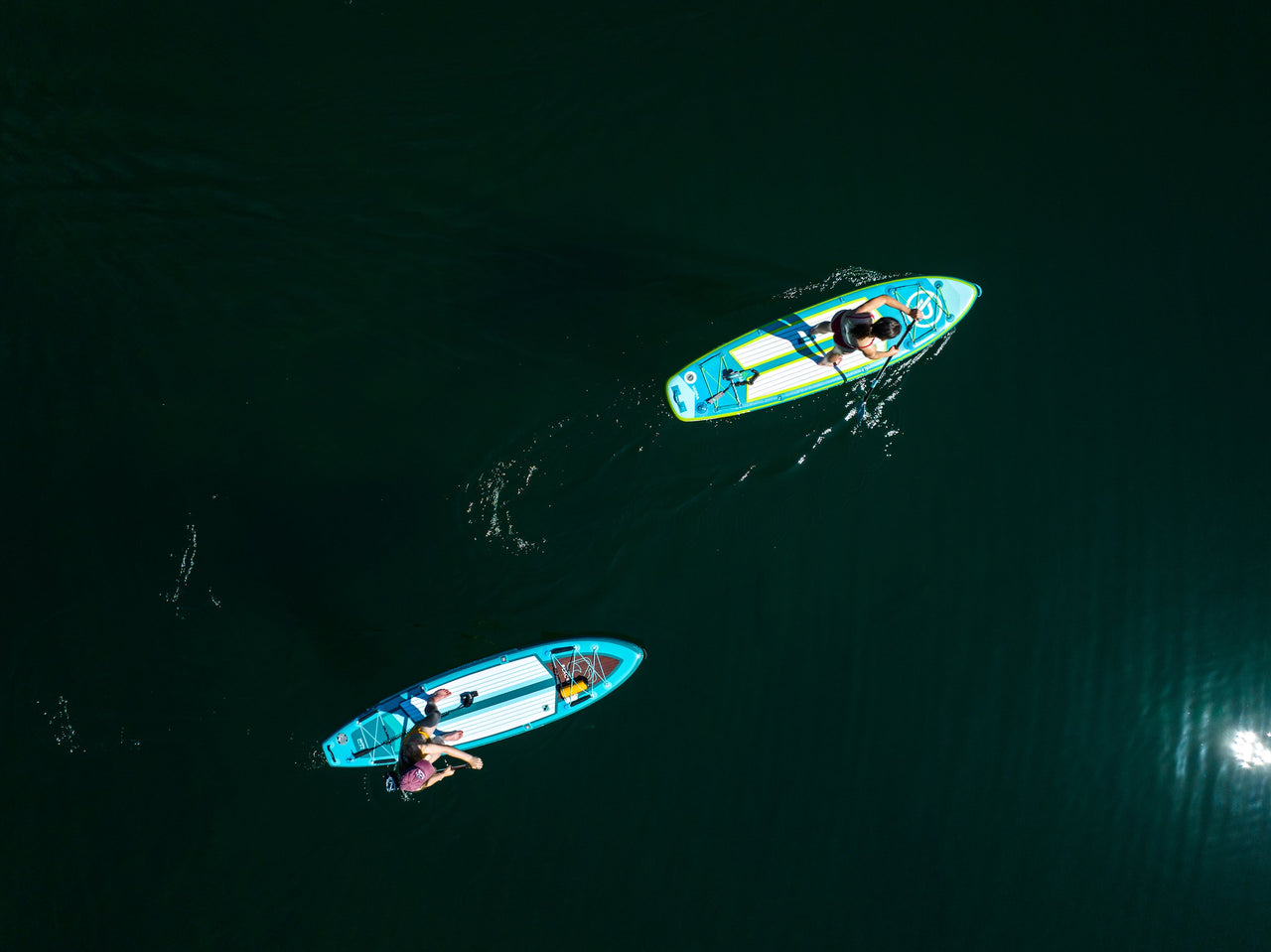 3 Tips for a Successful Touring Adventure on a Paddle Board
Paddle boarding is a versatile sport. You can paddle board on lakes, rivers, around marinas, and along the coast. Basically, you can paddle board anywhere there's relatively calm water. And when you're out on your board, you practice yoga, fish, bask in the sun, or paddle to new and hard-to-reach locales. You can also take your board touring. The practice of paddle board touring is becoming popular with a lot of people. They're going from cruising around their favorite lake to spending hours exploring larger waterways. Maybe you're thinking about giving it a try. If you've been thinking about going for a tour with your inflatable paddle board, here are a few tips to make it a success!
Know the Difference Between Conventional SUP Boards and Touring Boards
Yes, there are dedicated touring paddle boards! These are typically long and narrow so they can cut through the water and travel longer distances with ease. The overall design can be slightly different, too. The front end may have a sharper point, and the back fins may be configured to keep the board straighter as it glides through the water. These design elements can slightly reduce overall maneuverability, but they optimize stability. However, if you already have a SUP board or you want more of a multipurpose or all-around inflatable SUP, you can simply go with that option over the touring board. Just keep in mind, for touring purposes, all-around boards won't be as quick on the water so you may exert more effort as you explore.
Get Ready for Your Tour
Whether you go with a dedicated touring inflatable SUP board or you have an all-around board, there are a few things to do before you start your adventure. One of those things is packing for the day. This means you want a dry bag you can wear or strap to your SUP board. At the minimum, you want to pack a hat, food, water, a first aid kit, sunscreen, changing robes and a personal flotation device. Touring can mean you're out on the water for long hours, so you'll need plenty of calories to keep going. Energy bars are always a good option, but any of your favorite snacks work, too. And because you're out in the elements and sweating, staying hydrated is absolutely essential. Lastly, as always, you should be prepared for the unexpected. A first aid kit and a PFD can come in handy in a pinch. Beyond those essentials, other things to pack can include an inflatable SUP repair kit (just in case), a waterproof Bluetooth speaker, and your cell phone in a waterproof case.
Plan Your Tour from Start to Finish
Since you're likely going to be out on the water for an extended period, it's good to have a plan in place. You want to know where you'll be and when, roughly. That way, people know where you are should anything come up. You want to plot your general course from where you'll start to where you'll finish.
At the same time, keep an eye on the weather forecast for the day of your tour. Whether you're exploring coastal inlets, mountain rivers, or expansive bays, changing conditions can be dangerous.
Storms and bad weather can kick up wind and create choppy conditions making navigation difficult. If you start your adventure with clear skies and the weather starts to change, be prepared to get off the water if you need to. No matter the situation, having a plan gives you a guide to follow. If it's your first time touring, having a detailed plan is a must!
About iROCKER
Since 2013, iROCKER has been the top online destination for all your paddle boarding needs. They have an inflatable paddle board for everyone. Explore their versatile line of all-around inflatable SUP boards. Or check out their ULTRA™ Collection. These lightweight boards are designed to go with you anywhere—no waterway is off limits. Have kids? You'll want to check out the NAUTICAL Kids SUP boards. These are smaller boards made just for kids! What about paddle boarding accessories? iROCKER has every angle covered. Find an electric pump for your blow up paddle board. Or get a cooler that straps right onto your board! Make your next adventure on the water an adventure to remember with iROCKER!
Get ready for your paddle boarding tour at irockersup.com