Featured Explorer
Ian Wilson-Navarro: Photographer for Change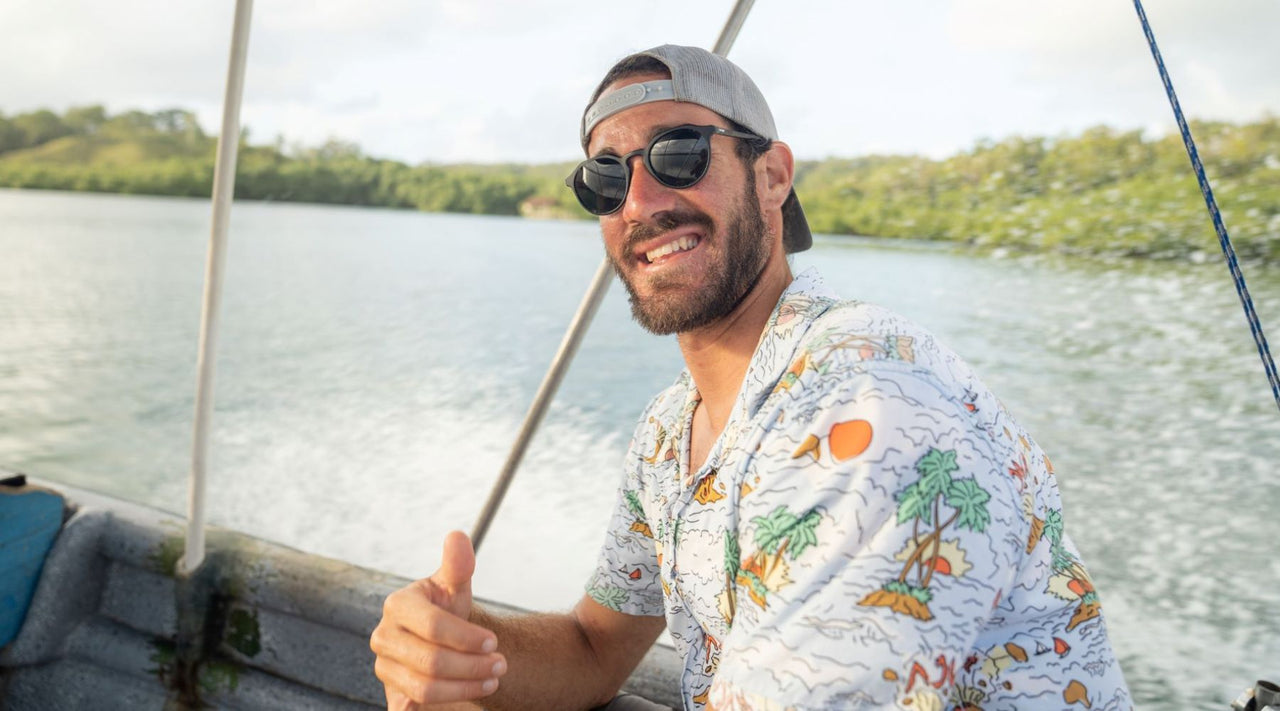 Discover how this Florida Keys native is capturing and conserving the natural world around him 
Splitting his childhood between the Florida Keys, his mother's native Nicaragua, and his father's native New England, outdoor photographer Ian Wilson-Navarro has never strayed far from the water. While travels and job opportunities have taken him around the globe, Ian has made the Florida Keys his homebase, and their crystal-clear waters his calling.  
PURPOSEFUL DAYDREAMING 
"I wasn't the best student growing up," he admits. "I was just a daydreamer, constantly just in my head, thinking of things I wanted to do or places I wanted to travel to." Spending winters in Latin America with his mother's family opened Ian's eyes to a world of possibility, one that of course involved the ocean.  
"I was always around water. Nicaragua is where I learned to surf and fell in love with the ocean. Of course, the Keys are where I was first introduced to it and the clear water diving and underwater coral reefs and fisheries and things like that, and then Nicaragua expanded into the ocean sport-side of things," Ian explains. 
But it's not just the lure of good waves that draws Ian to the ocean. "I've always kind of been interested in science and the reason for why things happen," he says. "I grew up observing the rapid changes in my home archipelago, and so I picked up on the decline of the greater ecosystem really quickly and realized we weren't heading in the right direction. And I've taken that interest and run with it."  
CONSERVATION CONVERSATION  
"I really enjoy documenting passionate people in their element. And more specifically, people who love the ocean, who love being outdoors on the water or underwater, and are passionate and respectful of those environments," he states. "Whether that's fisheries management or biologists or coral biologists out in the field […] I find their work just incredibly interesting. The natural system of how everything works in the environment has always fascinated me."  
A self-taught photographer with a keen eye for detail, Ian uses his photography to highlight the conservation efforts of those around him, as well as his own. "The conservationists, the scientists, they don't necessarily get a lot of the credit. Their work might, but the individuals might not, so it's always really fun to kind of help bring them front and center." 
Last August, Ian spent the entire month as the artist-in-residence in Dry Tortugas National Park, a 100 square mile park located almost 70 miles west of Key West. Comprised of mostly open water with seven small islands, the Dry Tortugas are accessible only by boat or seaplane. Here, Ian lived in the historic lighthouse keepers house on Loggerhead Key, spending his days capturing images of the local marine life.  
That unique experience has since blossomed into Ian's latest "big project," a "large format coffee table book highlighting the Dry Tortugas and the many ecosystems found in the park, with an emphasis on ecosystem preservation, conservation, sustainability, and of course, the people that work there," he explains. "I've been really lucky to have great relationships; there's a lot of great people there doing really cool stuff." 
In addition to Dry Tortugas and Everglades National Parks, Ian works closely with Bonefish & Tarpon Trust, a Florida-based conversation group dedicated to conserve and restore bonefish, tarpon and permit fisheries and habitats through research, stewardship, education and advocacy. "They do a lot with the environments that those fish live in, so I've found there's a really nice balance there between sport, photography, and conservation of the natural landscape," states Ian.  
"I love shooting big schools of any sort of fish—fish or shark or tarpon—whenever they're engaged in a natural pursuit and they're just completely oblivious to things happening around them, and you're just watching them. Whether it's bonefish on a shallow water flat or tarpon in deep water or grouper or whatever it is, I just really love being like a fly on the wall for natural behaviors on the grand scale. I really love finding myself immersed in those moments," says Ian.  
TAKING IT SLOW 
"Any day it's glass calm and at sunset, I'm on a paddle board," states Ian. Enabling him to arrive quietly, his SUP allows him to stealthily "get up to wildlife and interact. He adds, "As long as you're conscious of being quiet, it's like an underwater safari where I live, so it's super important to have that access." 
Working on, near, and around the water most days, Ian reflects on his appreciation for the natural world and just how much the ocean has to offer. "It just brings me comfort, it's where I can go to refocus myself and remember what matters. If career things or life things are throwing me for a spin, then that's where I go to re-center and come back to life with a kind of reinvigorated approach and refreshed perspective."  
His advice to others exploring our world's waterways? "Remember to go slow and focus on the world around you at a more detailed level. Being on the water and on a paddle board, you can be tuned it to this secret, kind of hidden world happening around you if you're observant enough. And remember how special it is to have places to paddle and clean water and pursue that in all aspects and encourage others to do the same." 
To learn more about Ian and view his work, visit https://ianwilsonphoto.com/ 
Or follow along with his adventures on Instagram at https://www.instagram.com/ianwilsonn/