SUP Gear
3 Ways to Enhance Your Next Paddle Boarding Adventure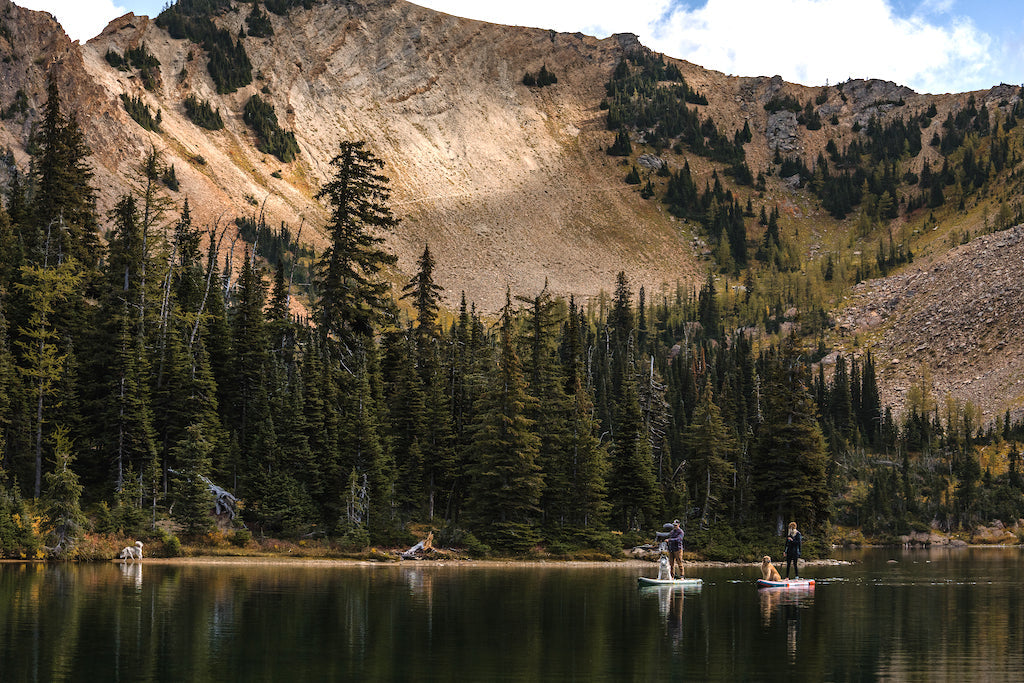 T

ake

Things Up

a Notch

on Your Next Paddle Boarding Adventure

 
Warmer weather is almost here, it may be a few months away, but that does not mean you cannot start planning your paddle boarding adventures! With the season so close, you may be looking to shake things up a bit. You want to make the most of your time on your inflatable paddle board. How can you take things up a notch?  
Here are a few quick and easy suggestions to really kick things up for your next on-the-water adventure. Put these tips to good use this weekend, or anytime you're feeling spontaneous. If you want to kick off warmer weather with a paddle boarding extravaganza, these ideas are for you!  
Explore Somewhere New 
We all have our favorite paddle boarding spots. Maybe it's the lake up the road, or it might be the reservoir with scenic views an hour outside of town. It's the place you visit time and time again. But sometimes, your favorite paddle boarding locations can start to feel a little stale, especially as the summer wears on. Perhaps you just want to avoid getting tired of your local spots. 
Spice things up with a new paddle boarding location you've never been to! Pack up your inflatable paddle board and make a day trip out of it. Go somewhere you don't normally visit, or you are excited to explore more. There's something exciting about exploring unfamiliar waters and breaking up your routine. You never know what you might discover. And who knows, maybe you'll find a new favorite spot. 
Find new SUP spots or mark down your favorite locations with the Blue Adventures app powered by iROCKER. 
Also, take a look at our collection Spice SUP Your Life to enhance your next adventure!

Go SUP Kayaking  
Stand up paddle boarding is fun, but have you tried SUP kayaking? It starts by turning your inflatable paddle board into a kayak. All you need is a SUP to Kayak Conversion Kit. This includes a kayak seat and a paddle blade that attaches to your existing paddle. How does this take things to the next level for your paddle boarding adventure? A SUP kayak unlocks all kinds of possibilities. For more information, watch this video. 
You can take your paddle board to spots where you might avoid typical stand-up paddle boarding. This includes faster or rougher rivers. An inflatable SUP kayak isn't necessarily designed for extreme whitewater rapids, but you can take it on rivers and streams where standing isn't always an option. You can also use a SUP kayak for longer excursions where standing might get tiring. Take a seat and enjoy the ride! 
Plus, if you don't want to kayak alone you can tandem kayak by attaching two kayak seats to your iROCKER paddle board! 
Make a Party Out of It 
Have you ever organized a paddle boarding party? It's when you and your friends all get together on your inflatable paddle boards and bring coolers stocked with snacks and drinks. Find the perfect spot on the water near the shore and anchor all your boards together. 
Play games, listen to some tunes with a waterproof speaker, and have a blast! It's a great way to kick off spring or summer while having a memorable paddle boarding adventure at the same time. It might even become your newest summer tradition. 
About iROCKER
Since 2013, iROCKER has been the top online destination for all your paddle boarding needs. They have an inflatable paddle board for everyone. Explore their versatile line of all-around inflatable SUP boards. Or check out their ULTRA™ Collection. These lightweight boards are designed to go with you anywhere—no waterway is off limits. Have kids? You'll want to check out the NAUTICAL Kids SUP boards. These are smaller boards made just for kids! What about paddle boarding accessories? iROCKER has every angle covered. Find an electric pump for your blow up paddle board. Or get a cooler that straps right onto your board! Make your next adventure on the water an adventure to remember with iROCKER! 
Get all the gear you need for an amazing paddle boarding adventure at irockersup.com

For someone who love to push their boundaries, explore new places, and paddle their way out of their comfort zone. Check out our Adventure collection!