SUP Gear
iROCKER Has Everything You Need for a floating picnic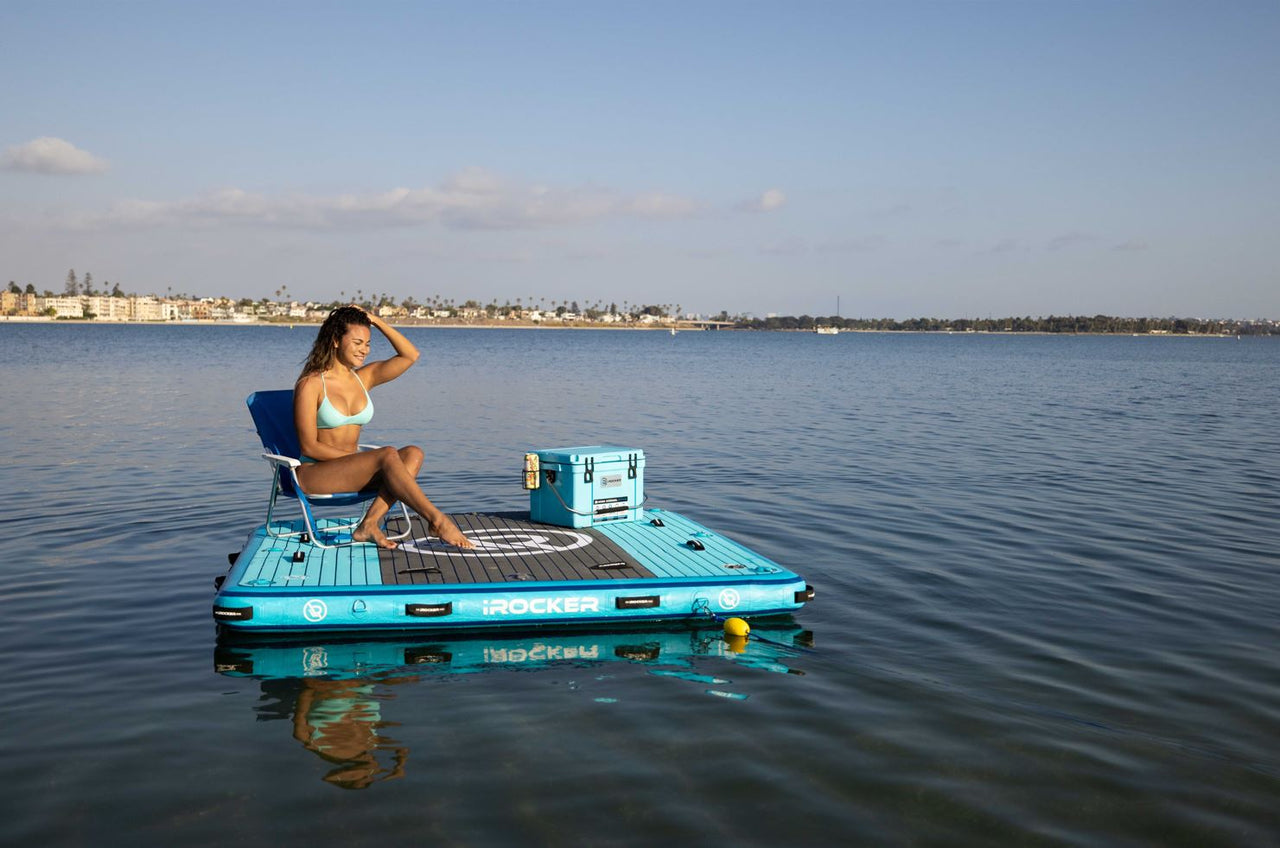 Spring means more time spent outdoors! As temperatures rise, you're probably looking for every excuse to get outside—and on your paddle board. Well, here's another reason to enjoy the great outdoors—a picnic! Why have a picnic on a blanket in the park when you can enjoy an afternoon on the water with friends and food! Need some gear to make this picnic happen? iROCKER has everything you need (minus the sandwiches, of course). You know this brand for their selection of stellar inflatable paddleboards, but they also have all sorts of accessories for just about any on-the-water adventure you can dream up, picnics included! Here are a few essential pieces of gear to help you make it happen.
Coolers Galore
iROCKER knows paddle boards, but they also know coolers. The iROCKER 45L Roto-Molded Cooler is their biggest cooler option at 45 liters. It can hold all the food and beverages you could possibly want for a picnic (up to 40 cans, plus ice). Toss it on the iROCKER inflatable dock and you're good to go. Want something a bit smaller you can put on the back of your inflatable paddle board? Go for the iROCKER 25L Roto-Molded Cooler. It can hold up to 24 cans plus ice, giving you plenty of room for all your picnic essentials. Now, if you want an option that maximizes portability, iROCKER offers their backpack cooler. The backpack is designed with 30 liters of storage, which means all your picnic essentials should fit, no problem. And because you can throw it over your shoulders and go, you can take it just about anywhere!
Cup Holders for Every Drink
Keeping your drink secure on your paddle board is probably one of the most important parts of having a picnic on the water. You don't want to set it down only for an unexpected wave to knock it over. This is where the iROCKER Cup Holder saves the day. It's designed to accommodate pretty much any can, bottle, or cup under 3.5" in diameter. But where the cup holder really shines is in drink security. The cup holder adheres to the action mount found on all your favorite inflatable SUP boards from iROCKER (2019 models and newer), BLACKFIN (2019 models and newer), and NAUTICAL (2021 models and newer). It's simple—attach it and go!
An Inflatable Dock for All the Food
Admittedly, this is less a SUP accessory and more a SUP companion. The iROCKER Floating Swim Dock is a multipurpose dock that gives you the perfect central area to gather for a picnic. The dock measures 7' by 7', so you can use it to hold coolers, prep food, and just relax. Everyone can gather on their paddle boards around the dock to create the ultimate on-the-water picnic spot. It also comes with eight action mounts to connect a variety of board gear—including cup holders! You can also pair the swim dock with the iROCKER Anchor to keep it in place. That way, your picnic doesn't float away while you're off paddling!
Get the best gear for your next paddle boarding picnic at www.irockersup.com!