Stand Up Paddle Boards
3 Epic Paddle Boarding Destinations to Kick Off Fall in Style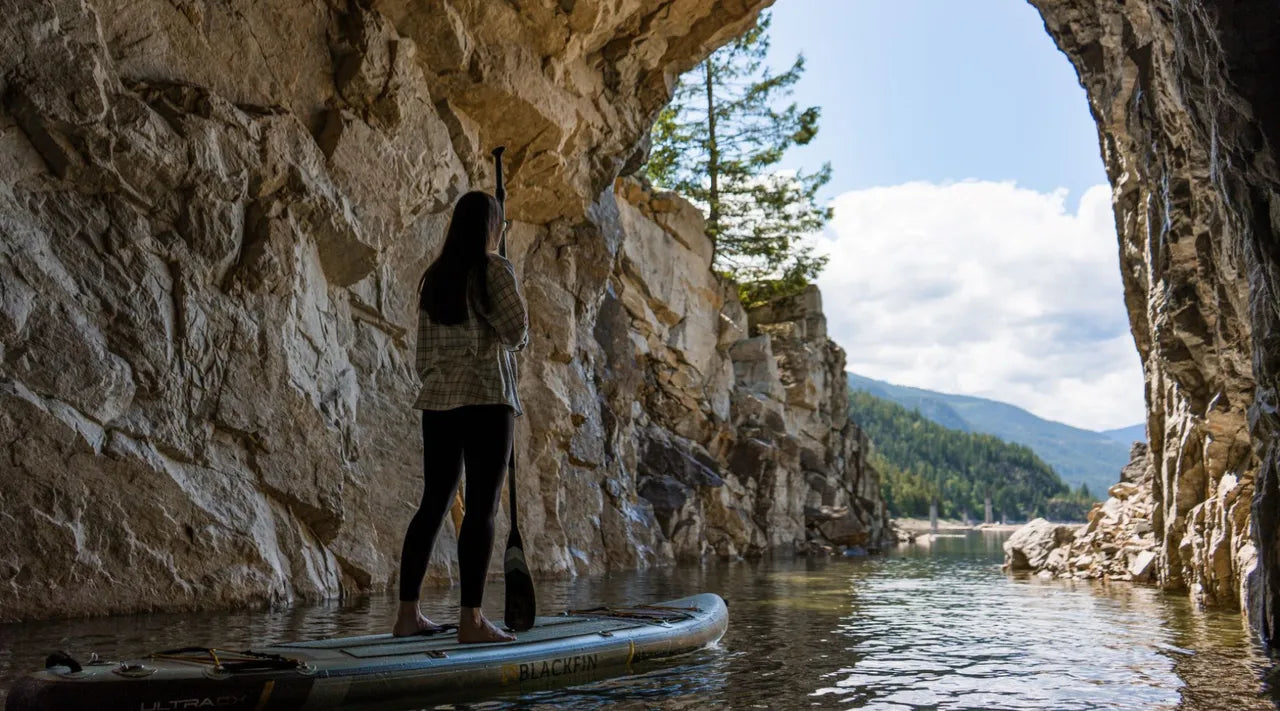 3 Awesome Spots to Paddle Board to Welcome Fall 
There's something special about gliding across crystalline waters on your trusty paddle board on a crisp autumn morning. You drift along the surface of the water and breathe in that fresh, cool air. What could make this moment even better? How about gorgeous snowcapped mountains in the background? Or foliage erupting in the colors of fall? 
The summer paddle boarding season may be behind us for 2022, but the fall paddle boarding season is just getting started. And as you kick things off, there are several epic locations around the United States worth visiting. From high mountains to wild forests, here are three destinations that make those fall mornings on the water even better! 
The Foliage of Lake Champlain, Vermont 
Lake Champlain is big. If you're from the Northeast, you know this can be an extraordinary place. The lake sits on the border between New York and Vermont, stretching into Canada. With a lake as big as Champlain, you can bet there are plenty of places to set off with your inflatable paddle board. From Burlington to Swanton Beach, the choice is yours. From the middle of September and well into October, the trees explode in fall color throughout Vermont and the rest of New England—and most importantly, all around Lake Champlain. Paddle board in a rural spot around the lake, and you're sure to be immersed in everything that makes fall so magical. 
The Mountains of Jackson Lake, Wyoming  
Jackson Lake is due east of the Tetons and off US Route 191 (also known as the John D. Rockefeller Jr. Parkway), so it's hard to miss. Of course, the view is hard to miss, too. Few paddle boarding locations around the US can match the majesty of Jackson Lake with a pristine view of the Tetons in the background. The great thing about visiting Jackson Lake and Jackson, Wyoming in early fall is the snow has yet to set in. Much of the time, it's still fairly warm during the day—balanced by those crisp autumn mornings and evenings. When you go out on the lake at sunrise and the light hits the Tetons in golden blazing glory, you might need a moment to catch your breath. 
The Serenity of Somes Sound, Maine  
Right in the middle of Acadia National Park in Maine, you'll find Somes Sound. It's one of the defining features of the park—and it's perfect for breaking out the inflatable paddleboards. And yes, there's a reason why a second New England locale is worth mentioning here. During early fall, much like Lake Champlain, the forests of Acadia become a fall foliage wonderland. Not only that, but Acadia National Park—situated on Mount Desert Island—is both fairly remote and mountainous. As you paddle board around Somes Sound and in the various coves that dot the shores of the island, you're rewarded with spectacular views of color.
About iROCKER 
When you need a new paddle board, iROCKER has the perfect option for any excursion. For nearly a decade, they've been the go-to source for all things inflatable paddle boarding, offering boards and equipment for all skill levels and interests. Need an inflatable SUP built for stability? iROCKER has it! Need a board made for touring? Find it at iROCKER. They even offer a blow up paddle board made just for kids—their NAUTICAL Kids board. Already have a board but need accessories? iROCKER delivers everything you need, including beverage coolers, fishing attachments, waterproof speakers, and much more. As you set out on your next adventure, iROCKER has everything you need. Leave no lake, pond, river, bay, or coastline unexplored, thanks to iROCKER! 
Get ready for your fall paddle boarding adventure at irockersup.com