Adventure
How to get your Kids into SUPing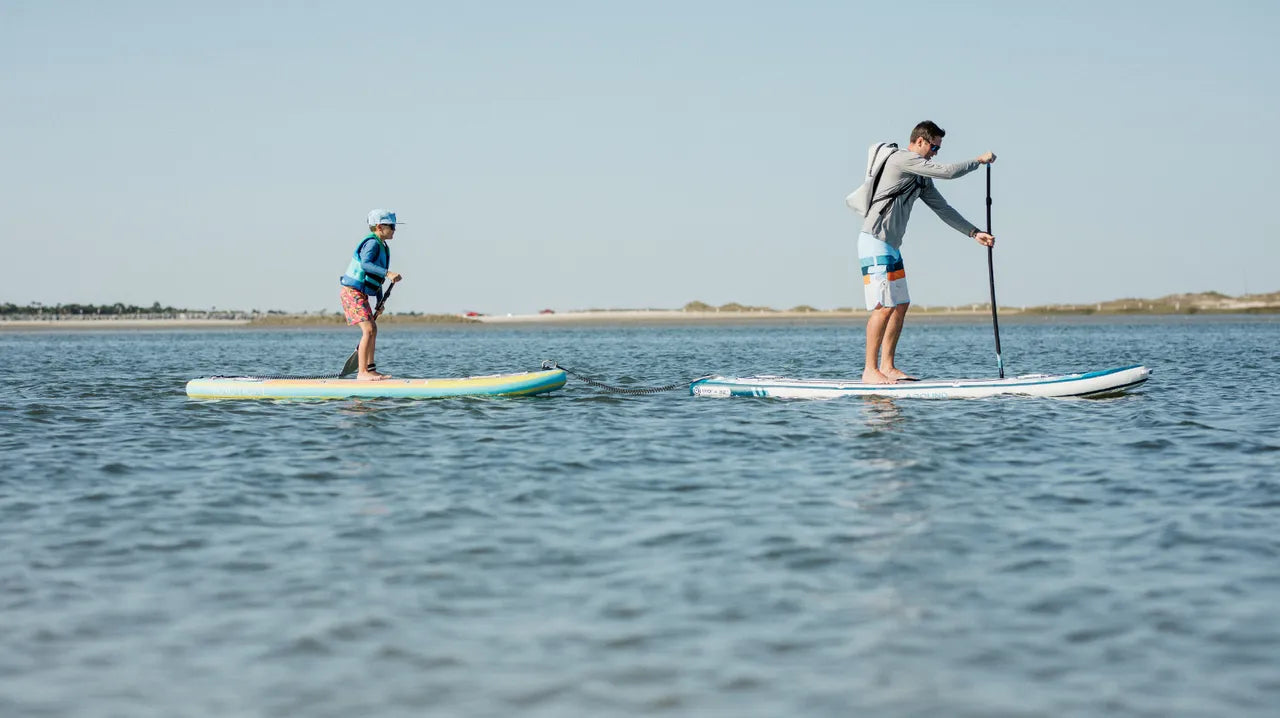 Stand up paddling is one year-round activity that little ones can enjoy just as much as mom and dad! A day of family bonding on paddle boards can happen anywhere, anytime—even long after summer has ended. Sure, kids may be more into Netflix than nature these days, but we can help with that.
Pack a cooler with all their favorites and head to your local SUP spot to introduce your kids to an activity you already love. Start young explorers out on the sand or grass and teach them how to balance and use their paddles before hopping in the water. Swapping iPhones for iROCKERs might be hard at first, but kids are wired to love the outdoors and follow in their parent's adventurous footsteps. Here are some tips for incorporating activities your kids already love into a day on the water.
For the Animal Lovers
You may be more interested in the health benefits and amazing scenery that come along with paddle boarding, but all kids really care about is how much fun they're going to have. No matter where you're paddling, you'll most likely experience close encounters with wildlife and marine life such as fish, turtles, birds, dolphins, and more! Bring the family pup along for the ride and you're guaranteed to see at least one animal having a good time! There's nothing like exposing your kids to the incredible, beautiful, awesome world outside their own backyard. A paddle board is the best way to immerse your entire family in the habitats of hundreds of animals in one outing. We can't wait to hear about what you saw!
For the Game Enthusiasts
Hang out in an area with other people or busy shorelines for hours of I Spy. If you and your kids are the more competitive types, pick a finish line and see who can reach it first. Or make your own obstacle course, paddling around buoys, trees, and other natural landmarks. The entertainment options are endless!
For the Budding Photographers
Swap the phone for a camera! Pick up cheap waterproof cameras at your local store or grab your GoPro and hit the water with the whole family. Let your little one snap fun underwater photos of themselves and their friends or capture the wildlife they meet along the way. Either way, they'll create lasting memories and hone their both their camera and paddling skills.
For the Social Butterflies
Your young explorer has just found their favorite new activity. Now they can share it with a like-minded community! In popular locations and good weather conditions, fellow paddlers are sure to be out as well. You and your little one will have the opportunity to meet and interact with other families spending time on the water paddle boarders, kayakers, surfers, and swimmers. Watersports are the perfect setting for your kids to practice social skills with others while you supervise.
Make it a weekly thing and your kids will be pros before you know it. You get to spend quality time with your family, and they get to be a part of something that you enjoy and learn to love it too.
Additionally, if you get trouble in choosing the right paddle board for your little one, then do not hesitate to discuss with iROCKER's experts. 
Other activities our youngest paddlers enjoy:
Bring along a tennis ball, spread the family out in the water and play catch.

Challenge the kids to try different positions on their board without falling in the water (sitting down, doing a spin, lying on their back, etc.)

At the beach, go a few practice rounds and then see who can catch a wave all the way to the sand!
Check out our best-selling
SUPs on sale
right now to save up on your adventure!
For the mom in need of me time, check out this
mom collection
!
Looking for a way to get little ones outside and involved in the adventure? With a perfectly gear, your kid will be itching to get out the door and onto the water. Check out our
young explorer collection
now!