SUP Gear
3 Tips to Pack Your Inflatable Paddle Board for a Trip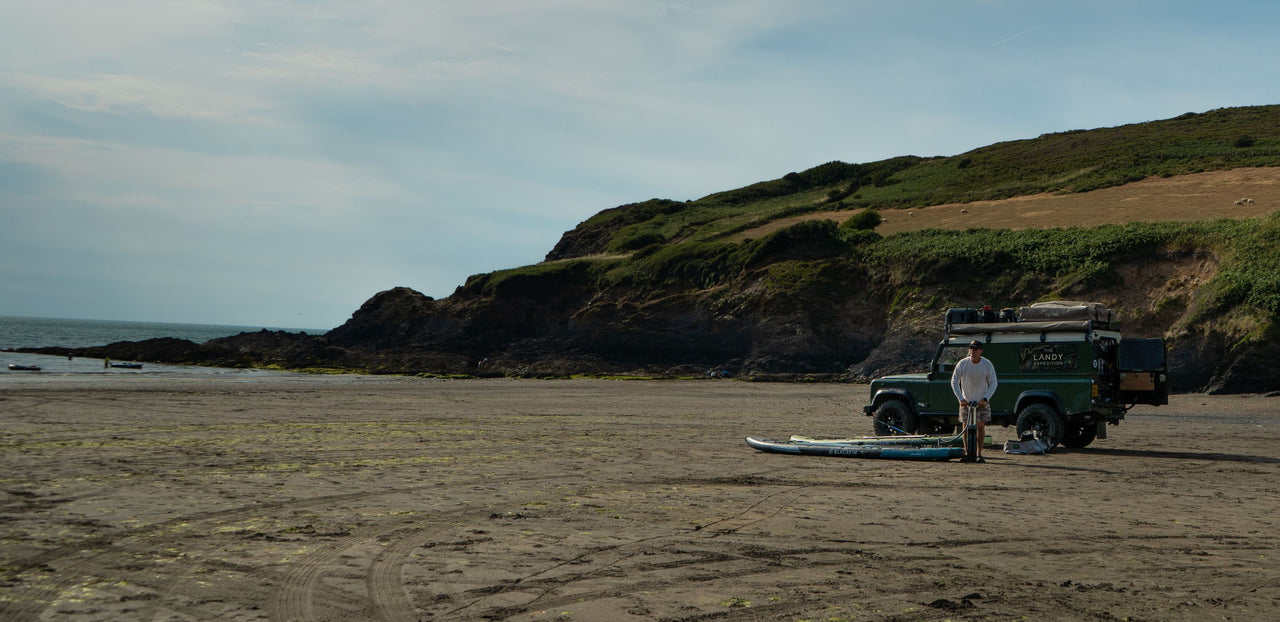 Are you traveling soon and thinking about taking your inflatable paddle board along for the ride? Traveling with your paddle board can be an incredible experience. You get to explore new waters and enjoy new adventures. Sometimes, though, packing your paddle board for a trip can seem like a challenge. You're already packing one or two bags of luggage. A paddle board adds another variable to the mix. But it doesn't have to be daunting! Taking your inflatable SUP board on a trip can be a simple process and just about as easy as packing anything else. So, if you're planning a trip and looking for the best way to bring your inflatable paddle board, here are a few ideas to make packing and traveling super simple. 
Get the SUP Clean and Ready to Go 
During the summer paddle boarding season, you may be out on the water every weekend. With all that time on the water, in the sand, on the dirt, and everywhere else, your board can accumulate all kinds of gunk. If you plan on packing up your inflatable SUP for a trip, be sure to give it a thorough cleaning before deflating and storing it. Warm soap and water are a great way to clean any paddle board. Or you can also use a dedicated SUP cleaner for a deeper clean.  
The goal is to wipe away all dirt, debris, residue, and anything else clinging to your board. Then let it dry completely, and it will be ready to fold and pack up. This is a good practice any time you fold and store your inflatable paddle board. It's also a good practice when you're done paddle boarding for the season if you plan to put your board away for a few months or simply won't be using it quite as often. It keeps your board clean and ready for the next time you head out on an adventure—and it helps extend the overall life of your SUP.  
Deflate Your Inflatable Paddle Board for a Secure Ride  
Never drive with your inflatable paddle board strapped to the top of your vehicle or in a truck bed. Inflatable SUP boards are designed to be durable and resilient on the water, but traveling down the highway can bend or misshape them. Then, when you get on the water, you'll notice your board isn't performing as you expected. 
The best advice is simply not to risk it. Deflate your paddle board before heading out. If you have a travel bag, don't hesitate to use it. Storing your inflatable paddle board in a travel bag adds another layer of protection in transit. Plus, it makes it so much easier to transport with your other luggage. If you don't have a travel bag, they come highly recommended! 
Inflate and Deflate with Ease 
When you're traveling, you probably don't want to spend too much time inflating or deflating your paddle board. If you want to inflate your paddle board more quickly or efficiently, consider using an electric pump. Many inflatable paddle board models come with a manual hand pump. These work well, but they can take effort to get your SUP inflated. Electric pumps, on the other hand, inflate and deflate your SUP with the push of a button. Even better, many pumps travel well and are small enough to pack in your SUP travel bag. 
About iROCKER 
Since 2013, iROCKER has been the top online destination for all your paddle boarding needs. They have an inflatable paddle board for everyone. Explore their versatile line of all-around inflatable SUP boards. Or check out their ULTRA™ Collection. These lightweight boards are designed to go with you anywhere—no waterway is off limits. Have kids? You'll want to check out the NAUTICAL Kids SUP boards. These are smaller boards made just for kids! What about paddle boarding accessories? iROCKER has every angle covered. Find an electric pump for your blow up paddle board. Or get a cooler that straps right onto your board! Make your next adventure on the water an adventure to remember with iROCKER! 
Get ready for your next SUP adventure at irockersup.com