Paddle Board Fishing for Water Anglers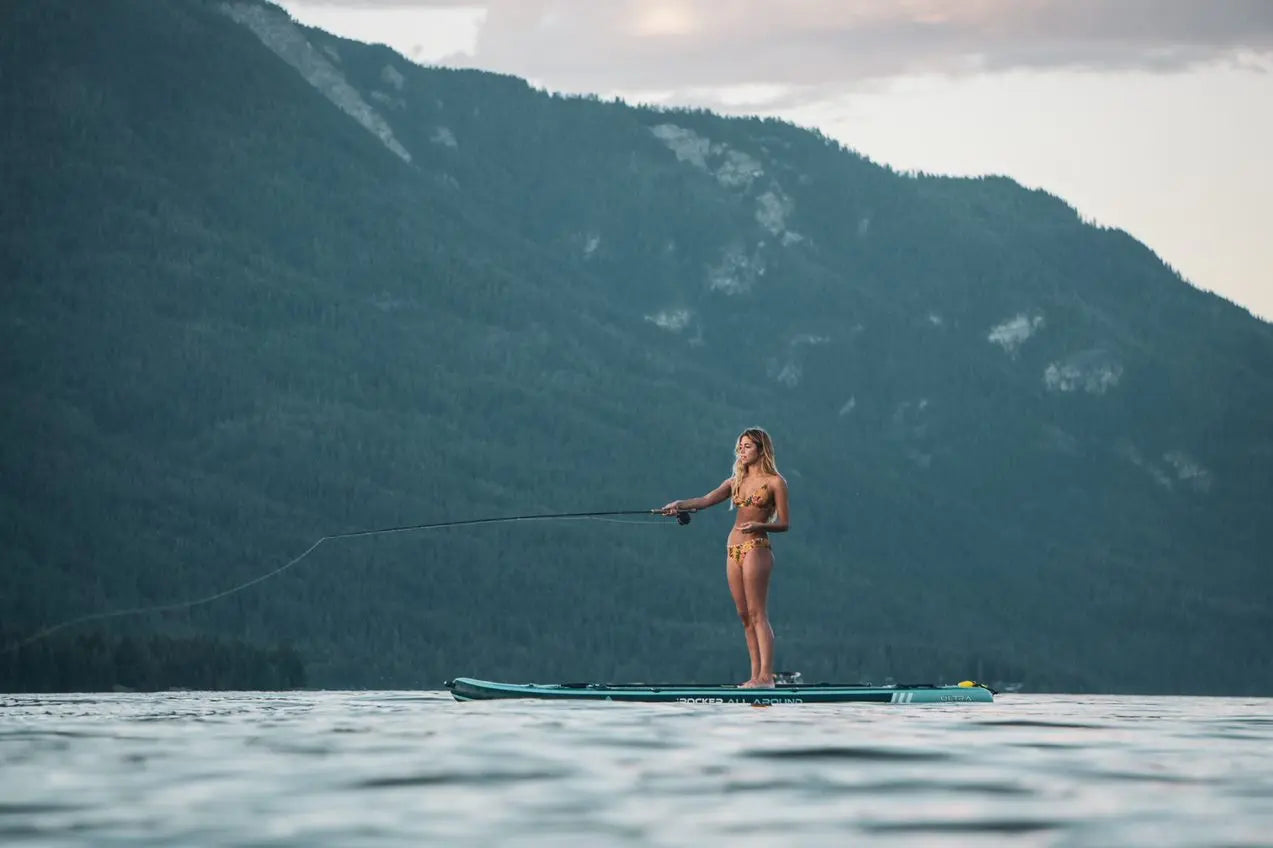 Paddle boarding has surged in popularity, captivating countless water lovers. Among the exciting activities to explore on a paddle board, fishing has hooked outdoor enthusiasts. Dive into this guide as we navigate the thrilling realm of fishing paddle boards, unveil must-have gear, and reveal tips and tricks to help you catch that trophy fish – all while having a blast on your board!
Can You Fish From A SUP?
Yes, you absolutely can! Stand-up paddle boards (SUPs) have evolved into versatile watercraft, allowing anglers to access hard-to-reach fishing spots and enjoy a unique, immersive experience. Fishing from a paddle board offers the advantages of stealth, mobility, and a higher vantage point, which can be particularly useful when sight fishing. However, not all paddle boards are created equal, so choosing the right board for your fishing adventures is important.
Features To Look For In A Fishing Paddle Board
Width
Stability is key for fishing on a paddle board, so choose a SUP with sufficient width. Wider boards offer a stable platform, easing casting and reeling. Opt for a board at least 32 inches wide for optimal stability and maneuverability.
Add-Ons
Enhance your fishing experience with built-in or compatible add-ons, like fishing rod holders, tackle compartments, and cooler tie-downs. These keep your gear organized and accessible, allowing you to focus on catching fish.
Portable Design
An inflatable paddle board is a great choice for SUP fishing as its portable design allows you to throw it in the car—or boat—and head to the day's fishing spot. Simply inflate, fish, and deflate when you're ready to head home.
Essential Gear and Accessories For Paddle Board Fishing
Prior to venturing onto the water, make sure you're equipped with the essential gear and accessories for a safe and enjoyable fishing experience. Some key items include:
Tips and Techniques For Paddle Board Fishing
Casting and Reeling Techniques
When fishing from a paddle board, it's essential to use smooth, controlled casting movements to maintain your balance. Keep your feet shoulder-width apart and bend your knees slightly for stability. Practice sidearm or underhand casting techniques to help you avoid snagging your line on the board or paddle.
Maintaining Balance and Stability
Maintaining balance is crucial for a successful paddle board fishing trip. Start by positioning yourself in the center of the board, with your feet parallel to the rails. Keep your knees slightly bent and engage your core muscles for added stability. When reeling in a fish, maintain a low center of gravity by squatting down and using your legs for support.
Approaching and Catching Fish
Stealth is your best friend when paddle board fishing. Approach your target area quietly by using gentle paddle strokes and minimizing splashing. Once positioned, use an anchor to stay put. Be patient and let the fish approach.
Safety Considerations and Best Practices
Prioritize safety while on the water. Check weather conditions, know the area, wear a personal flotation device (PFD), and bring a whistle or signaling device for emergencies. Additionally, inform someone of your planned route and expected return time.
Check out our Fishing collection now!
Where to Find the Best Fishing Paddle Board?
A successful paddle board fishing experience starts with the right equipment. If you're looking for a top-quality fishing paddle board, consider iROCKER. Our BLACKFIN boards are designed with anglers in mind, featuring ample width for stability, built-in or compatible add-ons like rod holders and fishing racks, and durable construction that can withstand the rigors of fishing. With the right gear and these helpful tips, you'll be well on your way to reeling in the big one while enjoying the great outdoors. Happy fishing!