Top 8 Best Paddle Board Brands for to Considers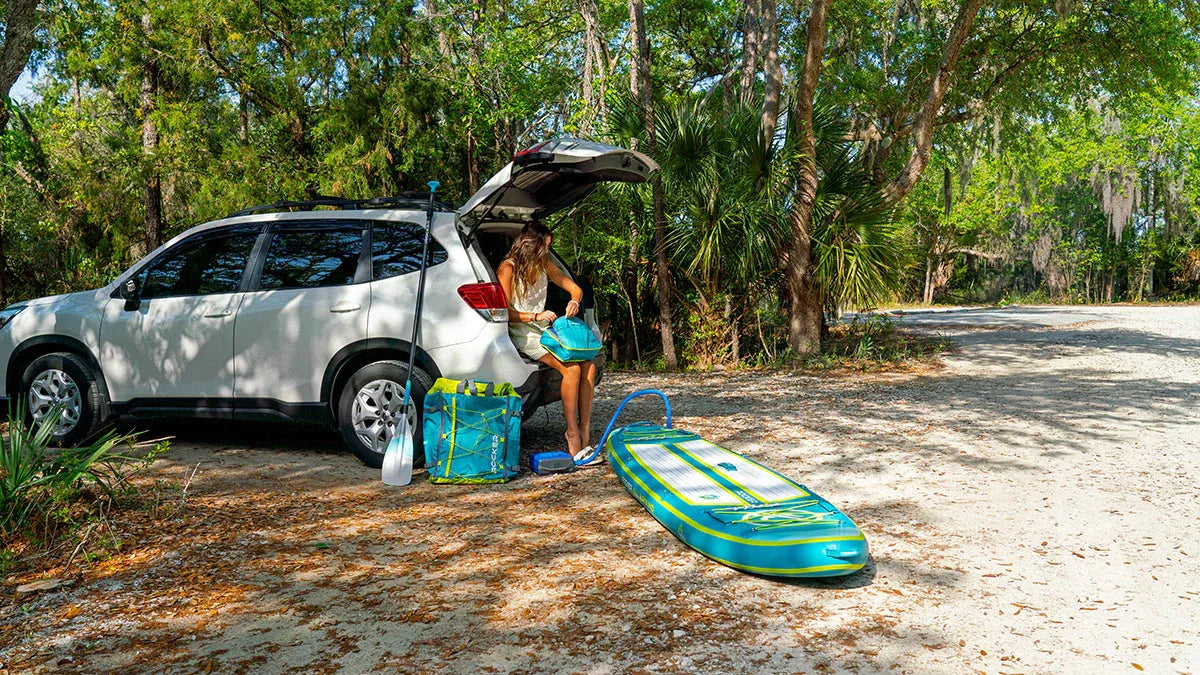 Are you on the hunt for an exciting outdoor activity that combines fitness, relaxation, and adventure? Look no further than paddle boarding! This water sport has been captivating outdoor enthusiasts for years, and for good reasons. However, with various brands and designs available in the market, choosing the perfect paddle board can be an overwhelming task. In this guide, we'll introduce you to the 8 best paddle board brands to considers. Let's get started!
Best 8 Paddle Board Brands for Each Type of SUPing
Best All-Around Paddle Board: ALL AROUND 11' ULTRA™ 2.0
This board is the jack-of-all-trades. It performs well in various conditions, making it perfect for those who love all kinds of paddleboarding activities. The 11-foot length provides good stability, and the advanced features make it adaptable for different uses.
Best Paddle Board for Beginners: NAUTICAL GO CRUISER
If you're new to paddleboarding, the NAUTICAL GO CRUISER is an excellent choice. It offers stable footing and easy maneuverability, making it ideal for learning the basics. It also comes at a beginner-friendly price point.
Best Paddle Board for Fishing: BLACKFIN MODEL XL ULTRA™
Designed with the angler in mind, this board has specialized attachment points for rod holders and fishing gear. The XL size gives you extra space to move around and store your catch. It's stable enough to make casting a breeze.
Best Paddle Board for Yoga: iROCKER CRUISER 10'6"
This board is wide and stable, making it excellent for yoga enthusiasts. The soft, cushioned surface provides a comfortable platform for your yoga poses, and its 10'6" length gives you ample space to stretch out.
Best Touring Paddle Board: BLACKFIN MODEL V
Built for long distances, this board has a streamlined shape that glides smoothly through water. It comes with storage options to carry essentials like water, snacks, and extra gear. Perfect for those who love exploring.
Best 2-Person Paddle Board: BLACKFIN MODEL XL
Want to paddle with a friend or loved one? This board is spacious enough to accommodate two people comfortably. It offers excellent stability and has multiple handles for easier coordination between the two paddlers.
Best Lightweight Paddle Board: CRUISER ULTRA™ 2.0
If you're looking for something easy to carry, this is the board for you. It's lightweight yet durable, making it simple to transport and quick to set up. It's ideal for those who like to paddleboard on the go.
Best Budget Paddle Board: NAUTICAL GO TEN-SIX
Don't want to break the bank but still want a quality board? The NAUTICAL GO TEN-SIX offers excellent value for the money. It's a solid board with basic features, perfect for those who are budget-conscious but still want a reliable paddleboarding experience.
What Makes a Paddle Board Brand Stand Out?
Before we delve into the best paddle board brands, let's first look at the factors that make a paddle board brand stand out. Here are some of the essential factors to consider:
Quality of Materials
The durability and performance of a paddleboard largely depend on the materials used in its construction. Paddleboards made of premium-quality materials such as military-grade PVC, carbon fiber, and fiberglass are more likely to be robust and efficient.
Design
The design of a paddle board determines its speed, stability, and maneuverability. Boards that are thoughtfully designed to cater to various skill levels and purposes are considered to be top-tier.
Brand Reputation
A brand that produces quality products and offers excellent customer service or support to the paddle boarding community is a good paddleboard brand.
Price
Price is an essential factor to consider when choosing a paddleboard. The cost should reflect the quality and features of the board.
How Can You Choose the Suitable Paddle Board?
Choosing the right paddle board can be overwhelming, especially if you are a beginner. Here are some of the factors to consider when selecting a paddle board:
Purpose
The first factor to consider is the intended use of the paddle board. Paddleboards come in different shapes and sizes designed for different activities, such as racing, touring, surfing, and yoga. For instance, touring boards are designed for long-distance paddling and are longer and narrower, while yoga boards are wider and more stable for better balance during yoga poses. Determine what activity you want to do on your board, and choose the right type of board that suits your needs.
Skill level
Your skill level is also a crucial factor to consider when selecting a paddle board. If you are a beginner, you want to choose a board that is stable and easy to balance on. A wider board with more volume will provide better stability and make it easier to stand up and balance. As you progress, you can choose a narrower board with less volume for better speed and maneuverability.
Weight and Size
The weight and size of the paddle board are also essential factors to consider. Choose a board that can support your body size and weight to ensure proper balance and stability. A board that is too small will sink, while one that is too big will be challenging to maneuver. Also, consider the weight of the board, especially if you plan to transport it regularly. A lighter board is more comfortable to carry, but it may compromise on stability.
Quality
Lastly, you want to choose a paddle board made of high-quality, durable materials. A high-quality board will last longer, provide better performance, and be more resistant to wear and tear. Materials like epoxy, fiberglass, and carbon fiber are popular for their strength and durability, while PVC boards are lightweight and affordable. Choose a board made of high-quality materials that can withstand the rigors of paddle boarding.
The Versatility of iROCKER's Inflatable Paddle Board
Now that you know what to look for in a paddle board let's take a closer look at some of the best paddle board brands for out there
iROCKER
The iROCKER is considered one of the best SUPs in the industry, and its functional and durable design makes it a safe bet for both families and groups of friends.
Paddled and adored by explorers all over the world. These paddle boards are ideal for beginners, intermediate paddlers, and families due to their various widths, lengths, and accessories. The iROCKER SUPs' durable PVC material and stable base allow them to handle most water conditions while comfortably carrying an adult rider and a small child. These paddle boards can be used in conjunction with the SUP to Kayak Conversion Kit and the Fishing Rod Holder.
Blackfin
Another top paddle board brand that provides high-quality and long-lasting paddle boards for beginners is Blackfin. Their boards are made of military-grade PVC and feature a unique carbon rail design that improves stability and performance. They have a variety of designs, such as all-around, touring, and fishing paddle boards. However, their boards are quite expensive, ranging from $1000 to $1300.
Nautical
Nautical is a relatively new brand in the paddle board industry, but they've quickly grown in popularity for its high-quality, low-cost paddle boards. Their boards are constructed with high-quality materials and feature a well-thought-out design that renders them stable and simple to use. They have a variety of designs, such as all-around, touring, and inflatable paddle boards, and their boards are relatively affordable, ranging from $449 to $569.
Ultra
Ultra is an upmarket paddle board brand that manufactures high-quality and high-performance paddle boards. Their boards are made of high-quality materials like carbon fiber, making them lightweight, durable, and fast. They have a variety of designs available, such as all-around, touring, racing, and fishing paddle boards. Their boards cost more than the other brands on this list, ranging from $1200 to $1,500.
Don't miss out on our exclusive GWP - ULTRA BOGO DEAL!
If You Need Advice, iROCKER Is Willing to Help
Choosing the right paddle board can be difficult, but with the proper advice and guidance, you can make a good decision. If you're a beginner and are unsure which paddle board to buy, iROCKER is always happy to assist. We have a team of experts who can help you navigate the process and select the best paddle board for your wants and budget.
With our guide to the best paddle board brands you can start your paddle boarding adventure and reap the benefits of this exciting activity.