Tahoe Paddle Board Rental: Things to Consider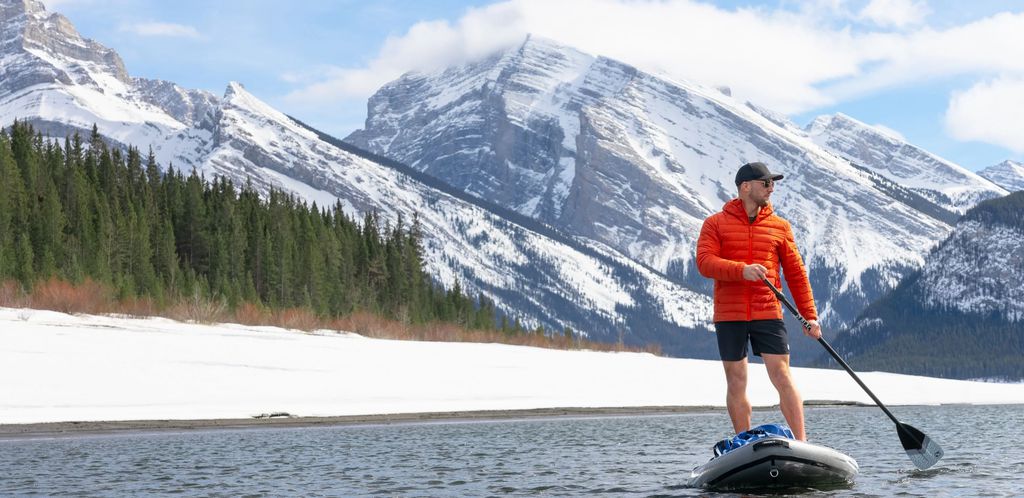 If you're looking for a memorable way to explore the stunning Lake Tahoe, paddle boarding is the perfect activity for you. The picturesque crystal clear blue mountain lake is, in our opinion, the best place to SUP in California and the United States. Nothing compares to the breathtaking scenery of Lake Tahoe. Seeing the lake and the mountains that surround it from here is, without a doubt, one of the best options!
While owning your own paddle board is fantastic, renting one can be a convenient and cost-effective option. Here are our takes on things to consider when paddle boarding in lake Tahoe; we'll tell you useful tips to know, like where to get Tahoe paddle board rental and where the best beaches are to start paddling around the lake.
Why Renting a Paddle Board is Advantageous?
Renting a paddle board provides numerous benefits, especially for beginners. Here are some reasons why renting may be a better option than buying:
No Storage Space Required
Although owning a paddleboard has numerous advantages, it also has some drawbacks. Paddleboards can be bulky, and storing them can be a hassle. Renting a paddle board eliminates the need for storage space and allows you to experience the sport without any of the logistical concerns.
Access to a Wide Range of Boards
Renting a paddle board means you get to choose from a wide variety of boards available at rental locations. From different sizes to unique designs, you can pick the best board for your needs, adding to the fun and excitement of paddle boarding.
Opportunity to Try Before You Buy
Before investing in a paddle board, renting allows you to try out different types of boards to determine the best one for you. This way, you can ensure that you are investing in a paddle board that meets your specific needs and preferences.
What is Included in a Paddle Board Rental?
Most paddle board rental locations include the essentials, such as instruction, paddles, and life vests. Some rental shops even offer accessories such as dry bags, cell phone cases, and kayak carts. Make sure to check the specifics of your rental agreement before heading out on the water.
Tips for Paddle Boarding for Beginners
This will be determined by the specifics of your rental agreement and the amenities you seek. However, most places that rent out paddleboards also provide you with instruction, paddles, and life vests. You can also rent accessories like kayak carts, dry bags, and cell phone cases.
Safety Tips
Paddle boarding is a fun and rewarding sport, but it's important to be aware of some essential safety tips before getting started:
Check Conditions: Always check the weather and water conditions before heading out on a paddle board. Ensure that the environment is secure and suitable for your skill level.
Take a friend: Bring a companion if you have never paddled before! This will improve your pleasure of the water and make it a safer place to learn.
Always Use a Leash: Your ankle is looped around a paddle board leash, which keeps you tied to your board. Let's face it: You might fall off your paddle board at some point (and that's part of the excitement of water sports!). Always use a leash to make sure you stay near your board and can quickly retrieve it.
Use Your Core: The simplest method to exhaust oneself is to just rely on your arms to propel you forward. To balance out how hard your body is working when paddling, make sure to maintain your core muscles activated. While using your SUP, maintain a tall posture. The majority of the work should be done by your strong back muscles.
Consider Taking a Paddle Boarding Lesson: There are always new tactics that may be learned to improve your paddling experience, regardless of whether you are a beginner or an expert. More structure, less planning, and a security group to explore with are all benefits of guided paddle boarding excursions.
Best Time to Paddle Board in Tahoe
Lake Tahoe's summer months, when the water is not as icy cold, are the greatest for paddle boarding. The temperature is still a little chilly. Often, early morning or late afternoon, or just before sunset, are the finest times of day to paddle board on Lake Tahoe.
What to Bring
It might be rather frightening to try paddle boarding for the first time. If this is your first time on a SUP trip, you should get prepared and bring all the protective gear, safety gear, and accessories you require to ensure that your trip is convenient, safe, and enjoyable.
For your next paddle board journey, don't forget to bring the following items:
Lifejacket or personal flotation device (PFD)
Paddle
Hand Pump
Head Lamp
Safety Whistle and First Aid Kit
Water Bottle
Suncream
Popular Paddle Boarding Destinations in Tahoe
Since Lake Tahoe is a great place for paddle boarding, there are lots of places to go paddle boarding. Here are a few places you can look:
South Tahoe SUP, El Dorado Beach
Kayak Tahoe, Pope Beach
West Shore Sports, Chambers Lodge
Tahoe City Kayak, Tahoe City
Watermans Landing, Carnelian Bay
Conclusion
Paddle boarding in Lake Tahoe is an unforgettable experience. Renting a paddle board allows you to enjoy this scenic destination with ease and convenience. And nearly any place there is water, you may hire paddle boards. Keep these tips in mind to ensure a safe and enjoyable paddle boarding experience.
iROCKER is undoubtedly the spot you shouldn't miss if you're seeking the best place to Tahoe paddle board rental for your upcoming trip. Please do not hesitate to contact us if you have any questions or information. See you in the next post!