9 Best Spots for Stand Up Paddle Board Adelaide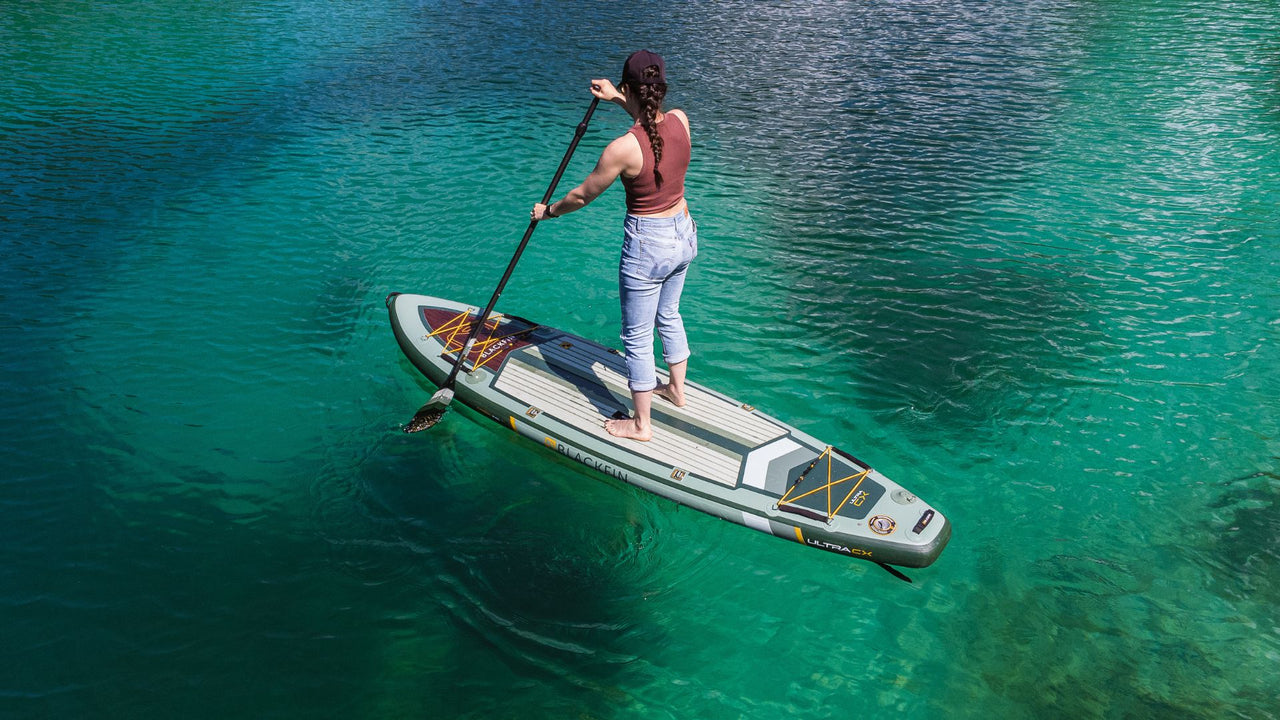 Adelaide, a vibrant city with picturesque waterways, is a paradise for stand up paddle board (SUP) enthusiasts. From serene rivers to bustling beaches, Adelaide offers a diverse range of spots that cater to all levels of paddle boarders. Whether you're just starting out or looking to catch some waves, this guide unveils the top spots for stand up paddle board Adelaide adventures. With each location offering unique experiences, you're sure to find the perfect spot to glide through the waters of this stunning city.
6 Spots For Flat Water Stand Up Paddle Board Adelaide
With six mesmerizing locations for flat water paddle boarding on tranquil waterways throughout Adelaide, paddle boarders have a wealth of choices for an ideal experience.
1. West Lakes
West Lakes, a tranquil suburban oasis, is a haven for those seeking flat water for paddle boarding in Adelaide. Its calm and clear waters make it an ideal spot for beginners to practice their skills or for more experienced paddlers to enjoy a leisurely day out. The area boasts multiple public launch points and ample parking, making it easily accessible.
Skill Level: All levels, especially beginners
Wave Type: Flat water
Travel Time: Around 20 minutes drive from the city center
Additional Features: 5.5 km of shoreline, multiple islands to explore, nearby cafes and shops
2. The Patawalunga, Glenelg
The Patawalunga in Glenelg is another gem for flat water paddle boarding. The serene environment and breathtaking views of the surrounding area offer a peaceful paddling experience. The water is usually calm, making it a great spot for families and beginners.
Skill Level: Ideal for all levels; beginners will enjoy the calm creek waters, while more adventurous paddlers can venture towards the ocean.
Wave Type: Primarily flat water in the creek, with the potential for mild ocean waves near the sea.
Travel Time: About 25 minutes drive from Adelaide's city center.
Additional Features: Views of marina, boats, and local houses, limited parking near the bridge on Adelphi Terrace, possibility to explore both creek and ocean environments.
3. Torrens River, Adelaide
The Torrens River, flowing through the heart of Adelaide, offers a unique paddle boarding experience. Paddlers can enjoy the city's skyline from a different perspective, navigating through calm waters. The riverbanks are dotted with spots where you can take a break and soak in the urban atmosphere.
Skill Level: Suitable for all skill levels, with calm waters ideal for beginners.
Wave Type: Mostly flat water, providing a smooth paddling experience.
Travel Time: Easily accessible from various points within the Adelaide city center.
Additional Features: Scenic views of Adelaide landmarks like the Adelaide Oval, Festival Center, and Parliament House; rich in greenery and wildlife, such as ducks and swans; multiple launch points including Elder Park Landing, Pinky Flat, and Bonython Park, with available parking.
4. Onkaparinga River, Port Noarlunga
The Onkaparinga River in Port Noarlunga is a versatile spot for stand up paddle board Adelaide. It features a mix of calm stretches and slightly more challenging waters, perfect for those looking to add some variety to their paddling routine. The river's natural beauty and abundance of wildlife add to the appeal.
Skill Level: Ideal for paddlers of all levels, offering serene stretches for beginners and more challenging areas for experienced paddlers.
Wave Type: Varied with calm river sections and potential for ocean waves at the river mouth.
Travel Time: Approximately 40 minutes drive from Adelaide's city center.
Additional Features: Access to the Onkaparinga River National Park, abundant wildlife including birds and dolphins, picturesque cliffs and wetlands; boat ramp near Saltfleet Street bridge for easy access, ample parking, toilets, and picnic facilities.
5. South Lakes, Goolwa
South Lakes in Goolwa is ideal for those looking to explore a network of waterways on their paddle board. The area is known for its tranquil waters and scenic views, making it a popular choice among local paddle boarders.
Skill Level: Welcoming for all, from beginners relishing the calm waters to experienced paddlers seeking scenic routes.
Wave Type: Gentle, flat waters, ideal for a relaxed paddle boarding session.
Travel Time: About an hour from the heart of Adelaide, a worthwhile journey for a fantastic paddle boarding day out.
Additional Features: Scenic views encompassing sand dunes and ocean vistas; wildlife encounters like pelicans and seals; boat ramp near Goolwa Barrage ensures easy water access.
6. Garden Island
Garden Island's sheltered waters offer a peaceful retreat for those seeking a secluded spot. This hidden gem is perfect for paddlers who prefer a quiet day on the water with their paddle boarding adventure in Adelaide, away from the more crowded spots.
Skill Level: Great for all paddlers, offering a mix of historical intrigue and nature exploration.
Wave Type: Calm waters surrounding the island, suitable for a leisurely paddle.
Travel Time: A 30-minute drive from Adelaide's city center leads you to this tranquil paddle boarding spot.
Additional Features: The chance to paddle around shipwrecks and spot dolphins; unique mangrove ecosystems; parking is limited but available, with additional street parking options.
3 Spots For Beginner SUP Surfers in Adelaide
Let's delve into something different from serene lakes and rivers. Adelaide also caters to those eager to try their hand at surfing. We'll explore three spots ideal for beginners, providing a gentle introduction to surfing in Adelaide's welcoming waters.
1. The Mid Coast, Beaches from Christie's to Moana
For beginners interested in SUP surfing, the mid coast beaches from Christie's to Moana provide the perfect setting. The waves here are generally gentle and forgiving, ideal for those just starting out in surf SUP. This stretch of coastline, south of Adelaide, is renowned for its inviting waters and friendly waves, making it an ideal playground for beginners in surf paddle boarding.
Skill Level: Perfect for beginners and those new to surf paddle boarding.
Wave Type: Small to medium waves, offering a gentle introduction to ocean surfing.
Travel Time: Roughly a 40-minute drive from Adelaide's city center, leading you to some of the most approachable surf spots in the region.
Additional Features: Clear waters, sandy beaches, and natural reefs create an inviting environment; each beach along the Mid Coast, from Christie's to Moana, has unique charm and wave patterns, suitable for various preferences for paddle boarders in Adelaide.
2. South Coast Middleton and Goolwa
The South Coast, particularly around Middleton and Goolwa, presents another excellent opportunity for paddle boarders in Adelaide to experience the surf. This area is known for its slightly bigger and more consistent waves, especially during winter, making it a fantastic choice for those looking to progress from beginner to intermediate levels.
Skill Level: Ideal for beginners ready to step up their game and intermediate paddle boarders.
Wave Type: A mix of moderate waves provides more challenge than the Mid Coast, perfect for honing surfing skills.
Travel Time: About an hour's drive from Adelaide, this journey takes you to some of the more exhilarating surf spots in the region.
Additional Features: Middleton and Goolwa beaches boast long rides and appealing breaks amidst beautiful coastal scenery; these locations are also equipped with essential amenities, making them convenient for day-long paddle boarding adventures.
3. Southport and U Turns
Southport and U Turns, situated on the mid-coast just south of the Onkaparinga River Mouth, are favored spots among the paddle board Adelaide community. These locations are known for their accessible waves, making them excellent choices for beginners and intermediates looking to experience the thrill of ocean paddle boarding.
Travel Time: Located about a 40-minute drive from Adelaide's city center, they provide a convenient getaway for those looking to enjoy the surf.
Wave Type: The spots are characterized by small to medium waves. Southport boasts a notable left-hand break, while U Turns is known for its right-hand break.
Skill Level: These spots cater well to beginners, offering a safe learning environment and intermediate paddle boarders looking for a bit more challenge.
Additional Features: Known for their lively and friendly atmosphere, Southport and U Turns are perfect for those seeking adventure and a sense of community. The scenic views of cliffs and the river add to the experience.
Adelaide presents a fantastic opportunity for those advancing in paddle boarding Adelaide and surfing. The city's moderate waves and picturesque beaches provide the ideal environment for progressing to more advanced levels.
Why Adelaide is Perfect for SUP?
Adelaide's diverse range of waterways makes it a perfect destination for SUP enthusiasts. The city's mild climate allows for paddle boarding throughout the year, offering different experiences in each season. From the calm waters of the rivers to the gentle waves of the ocean, there's something for every paddler in Adelaide.
Best Times of Year for Paddle Boarding in Adelaide
Paddle boarding in Adelaide can be a year-round activity, thanks to the city's generally mild climate. However, certain times of the year offer distinct experiences that can enhance your paddle boarding adventures:
Spring (September to November): The spring season in Adelaide brings warmer weather and vibrant natural scenery, making it an ideal time for paddle boarding. The waters are calm, and the blooming flora provides a beautiful backdrop for your paddling sessions.
Summer (December to February): Summer is the peak season for paddle boarding Adelaide. The weather is hot and sunny, perfect for those long days spent on the water. This is also a great time for beginners to start, as the conditions are generally calm and welcoming.
Autumn (March to May): Autumn in Adelaide offers mild and comfortable weather for paddle boarding. The waters remain warm from the summer heat, and the changing leaves create a picturesque setting for paddling.
Winter (June to August): While cooler, winter can be an excellent time for more experienced paddle boarders, especially those interested in surf paddle boarding. The waves are more consistent, offering a challenge for those looking to improve their skills.
Each season in Adelaide brings its unique charm to paddle boarding, making the city a fantastic destination for this activity all year round.
Where to Stay While Paddle Boarding in Adelaide?
For those planning a paddle boarding trip to Adelaide, there are several accommodation options to suit various preferences and budgets:
        1. Tequila Sunrise 
Tequila Sunrise is ideally positioned in the heart of Adelaide's city center, Tequila Sunrise provides easy access to the city's numerous paddle boarding spots. Its central location is perfect for exploring Adelaide's waterways.
 Budget-Friendly: This hostel is an economical choice, offering a balance of comfort and affordability. It's a great option for travelers looking to save on accommodation.
Amenities: Guests can enjoy clean, air-conditioned rooms, complimentary breakfast, laundry facilities, and free Wi-Fi.
       2. Quest Port Adelaide 
Located in the Central Business District, close to various amenities, Quest Port Adelaide is well-situated for paddle boarders looking to experience the city's waterways.
Moderate Budget: Offering well-appointed accommodations, this hotel is suitable for those with a mid-range budget seeking a comfortable stay.
Amenities: The hotel features apartments with air conditioning, kitchenettes, refrigerators, complimentary Wi-Fi, and concierge services.
         3. 
Majestic Roof Garden Hotel
This hotel is in the CBD, near shopping, dining, and sightseeing areas, making it convenient for accessing Adelaide's paddle boarding locations.
Elevated Comfort: While offering upscale accommodations, the Majestic Roof Garden Hotel is accessible for those seeking a higher standard of comfort without excessive spending.
Amenities: It includes modern, well-equipped rooms, a rooftop terrace with city views, and proximity to various attractions.
Ride the Waves with iROCKER
Adelaide is a treasure trove for paddle board enthusiasts. With its diverse range of paddle boarding spots, there's always a new experience waiting to be discovered. Whether you're seeking the tranquility of flat water or the excitement of beginner surf, Adelaide has it all. Always prioritize safety and respect the local environment while enjoying your paddle boarding adventures. For top-quality stand up paddle board and gear, check out iROCKER, your one-stop-shop for your stand up paddle board Adelaide adventures.