Stand Up Paddle Boarding Sydney: 10 Best Places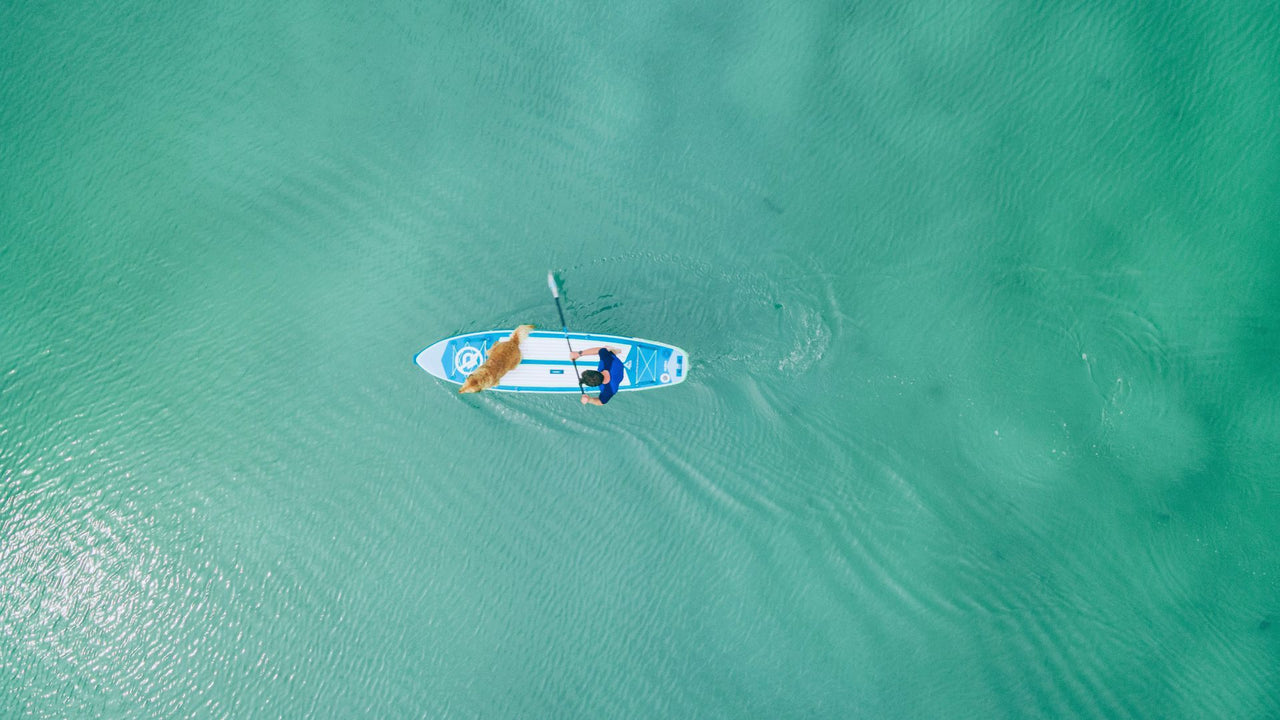 This guide explores the best places for Sydney paddle boarding adventures, each offering stunning coastline and breathtaking views. It is a haven for stand up paddle boarding enthusiasts. Whether you're a seasoned paddler or a beginner eager to glide over the water, the city offers many spots perfect for every skill level.
Embark on a journey through Sydney's spectacular waterways with our guide to hot spots for paddle boarding in the city.
1. Nepean River
Venture to the Nepean River, an idyllic haven for paddle boarding in Sydney. Glide along its winding, tranquil waters, enveloped by the lush, captivating beauty of surrounding bushlands. This location transcends mere paddling; it's an immersive journey into the heart of nature. Be on the lookout for an array of native wildlife, from the vivid colors of diverse bird species to the rare and enchanting sightings of platypuses. For paddle boarders, this is a dreamlike destination, offering a harmonious blend of peaceful solitude and exhilarating wildlife encounters.
Launch Point: Tench Reserve
Skill Level: Beginner to Intermediate
Water Type: River
Practical Tip: Start early to enjoy the calm waters and avoid the afternoon winds.
2. Manly Wharf
Manly Wharf delivers a truly exhilarating stand-up paddle boarding experience. Dive into the pulsating energy of Manly Cove, a spectacular fusion where the dynamic buzz of city life seamlessly intersects with the peaceful tranquility of the sea.
Paddle boarding at this prime location is about more than just the activity; it's a sensory feast, absorbing the breathtaking, panoramic views of Sydney Harbour. You're not just a spectator, but an integral part of one of Sydney's most iconic and vibrant beachfront scenes. Here, the captivating blend of urban allure and serene seaside ambiance creates an unforgettable paddle boarding adventure.
Launch Point: Manly Kayak Centre
Skill Level: Intermediate
Water Type: Ocean/Bay
Practical Tip: Keep an eye out for ferries and boats.
3. Gunnamatta Bay
Discover the serene, captivating waters of Gunnamatta Bay, a premier destination for stand-up paddle boarding in Sydney. This picturesque bay, a haven for yoga enthusiasts and leisurely paddlers alike, boasts immaculate, crystal-clear waters that serve as a window to an enchanting underwater world. As you navigate its tranquil expanse, each paddle stroke brings you into an intimate dance with the bay's vibrant marine ecosystem.
Gunnamatta Bay is more than just a paddling spot; it's a magical sanctuary where aquatic exploration and peaceful relaxation merge, offering a sublime retreat for those seeking both adventure and tranquility in the heart of Sydney.
Launch Point: Gunnamatta Park
Skill Level: All Levels
Water Type: Bay
Practical Tip: Ideal for sunset paddles.
4. Bonnie Vale Picnic Grounds
Nestled in the lush heart of the Royal National Park, the Bonnie Vale Picnic Grounds offer a mesmerizingly beautiful locale for paddle boarding. This peaceful oasis is an ideal retreat for those longing to escape the urban chaos and immerse themselves in nature's calming embrace. As you glide through these still waters, you are surrounded by the park's awe-inspiring natural beauty and deep serenity. Each paddle through this tranquil haven transforms your journey into an invigorating, soul-enriching adventure, offering a perfect blend of scenic tranquility and a gentle nudge of adventure amidst the park's rich, green landscapes.
Launch Point: Bonnie Vale Boat Ramp
Skill Level: Beginner
Water Type: River
Practical Tip: Pack a picnic to enjoy on the shore after your paddle.
5. Bellamy Beach
Bellamy Beach is a magnet for adventure-hungry stand-up paddle boarders in Sydney. This beach, with its vibrant exposure to the mighty, surging ocean waves, serves as an electrifying arena for those craving high-octane excitement. Engaging in paddle boarding here transcends the ordinary—it's an adrenaline-fueled dance atop the sea, where each undulating wave challenges your balance and tests your daring. Perfect for the experienced and the bold, Bellamy Beach offers an unparalleled opportunity to elevate your SUP skills in the thrilling embrace of the open sea, making it an exhilarating destination to conquer the elements and revel in the intense, raw beauty of the ocean.
Launch Point: Bellamy Beach
Skill Level: Intermediate
Water Type: Ocean
Practical Tip: Check the weather conditions before setting out.
6. Watsons Bay
Watsons Bay, steeped in historical allure and offering spectacular views of the Sydney skyline, stands as a premier choice for stand-up paddle boarding in Sydney. This location boasts a rich tapestry of experiences: from serene, picturesque routes ideal for leisurely paddles soaking in the city's majestic skyline, to the more vigorous, wave-kissed waters that challenge and thrill the most adventurous paddlers. Its dynamic range of conditions ensures Watsons Bay is a captivating and welcoming spot for paddle boarders of all skill levels, with every stroke offering a unique blend of scenic beauty and exhilarating adventure, set against the backdrop of one of Sydney's most iconic and historically rich locales.
Launch Point: Robertson Park
Skill Level: Intermediate to Advanced
Water Type: Ocean/Bay
Practical Tip: Explore the nearby beaches and coves.
7. Balmoral Beach
Balmoral Beach is a top-tier destination for paddle boarding in Sydney, particularly favored by families and novices. Its sheltered, gentle waters create the perfect setting for mastering paddle boarding skills in a safe and inviting environment. Alongside the allure of paddling, the beach is dotted with charming cafes and lush parks, adding to the enchanting atmosphere. This picturesque location offers a blend of leisurely adventure and scenic tranquility, making it a delightful spot for an enjoyable day on the water, complemented by the comforts and joys of beachside amenities.
Launch Point: Balmoral Boatshed
Skill Level: All Levels
Water Type: Beach/Bay
Practical Tip: Visit during weekdays to avoid the crowd.
8. Woronora River
The Woronora River presents an enchanting stand-up paddle boarding experience in Sydney. Glide through its tranquil, meandering waters that weave through verdant, dense bushlands. This setting offers a peaceful and captivating journey, far removed from the hustle of city life. Paddle boarding here is not just an activity; it's an adventure into the heart of nature, where the serene river and the lush surroundings create a magical escape, perfect for those seeking both tranquility and a touch of exploration in Sydney's natural landscapes.
Launch Point: Prince Edward Park
Skill Level: Beginner to Intermediate
Water Type: River
Practical Tip: Watch out for wildlife along the riverbanks.
9. Narrabeen Lagoon
Narrabeen Lagoon is a tranquil haven for paddle boarders in Sydney. Its serene, glass-like waters are ideal for extended, leisurely paddles, offering a peaceful retreat. As a renowned birdwatching locale, the lagoon invites nature enthusiasts to explore its rich, flourishing habitat.
Paddle boarding here isn't just a sport, it's an opportunity to immerse oneself in the captivating beauty of the natural landscape, where every stroke brings a new discovery. This spot is perfect for those seeking a gentle paddle boarding experience amidst the scenic splendors of Sydney.
Launch Point: Jamieson Park
Skill Level: All Levels
Water Type: Lagoon
Practical Tip: Ideal for wildlife spotting.
10. Clareville Beach
Clareville Beach is an idyllic destination for novice paddle boarders in Sydney. Nestled in a protected cove, its calm and soothing waters promise an effortless and delightful paddle boarding experience.
As you glide over the gentle waves, be captivated by the breathtaking vistas of Pittwater and the lush, sprawling expanse of Ku-ring-gai Chase National Park. This picturesque spot offers more than just paddle boarding; it's an adventure into a scenic paradise, where the stunning natural backdrop enhances every moment on the water, making it a perfect and serene getaway for those beginning their paddle boarding journey.
Launch Point: Clareville Beach
Skill Level: Beginner
Water Type: Beach/Bay
Practical Tip: Ideal for afternoon paddles and family outings.
Paddle Boarding in Sydney with iROCKER
Paddle boarding Sydney adventures combine fitness, relaxation, and the enjoyment of nature. Whether you're looking for tranquil waters or challenging waves, Sydney's diverse locations cater to every paddler's dream. Remember to always check local conditions and prioritize safety to make the most of your paddle boarding experience. For more information and quality paddle boarding gear, visit iROCKER's website.