Paddle Boarding Seattle: Explore the Emerald City on Water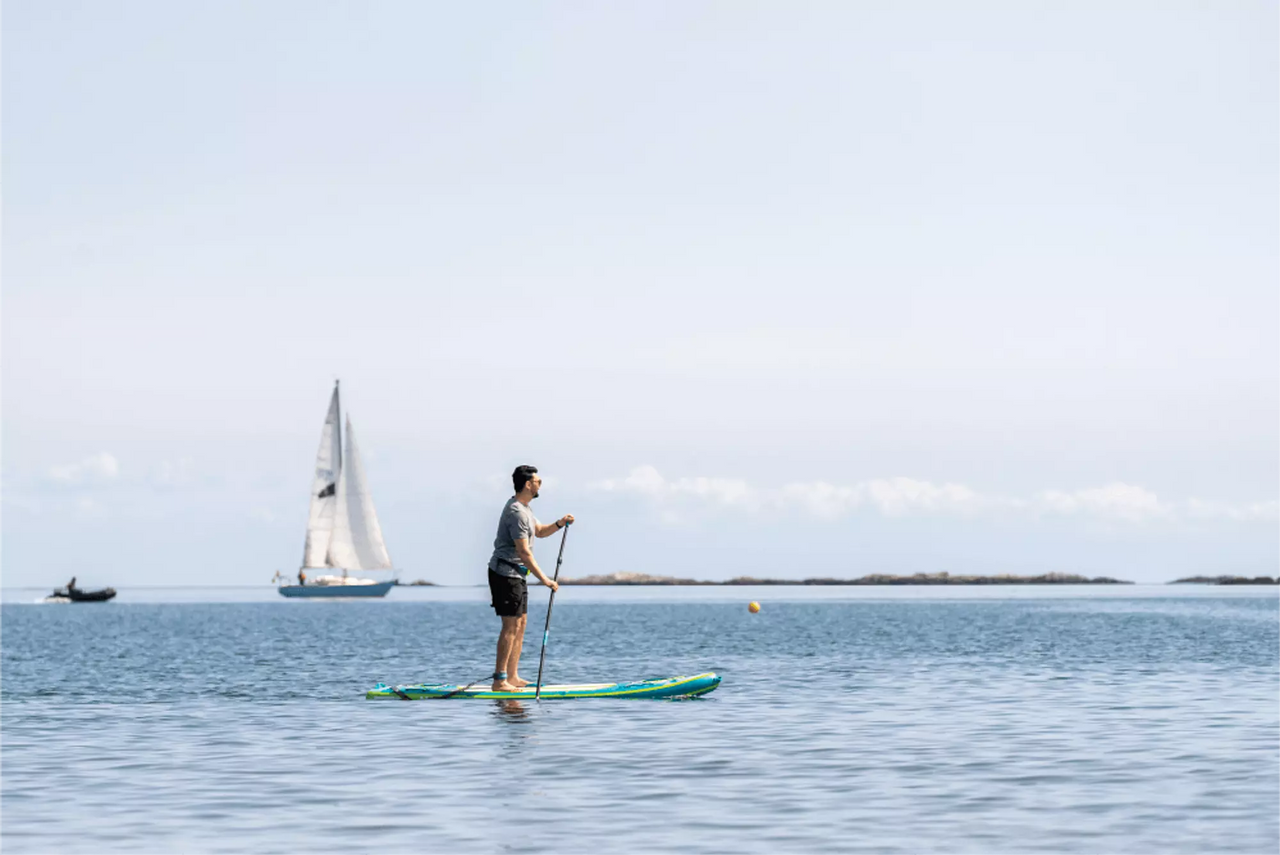 Primed for an exhilarating dive into adventure? Grab your stand up paddle board and get set to navigate the sparkling jewels of the Emerald City from its shimmering waterways. Paddle boarding in Seattle presents an unmatched blend of serene nature and the city's striking skyline, truly offering an extraordinary paddle boarding Seattle experience.
Gear Up for Seattle!
Before you dive into the emerald waters, let's kit up! In Seattle, the weather can be as unpredictable as a sea lion's antics, so come prepared. A trusty wetsuit, a reliable Personal Flotation Device (PFD), and non-slip water shoes are your first mates in this venture. Also, don't forget your UV protection, hydration pack, and waterproof bag for personal belongings. Now, let's set sail to the top paddle boarding spots in Seattle.
Moss Bay
Where the city's silhouette meets the azure skyline, Moss Bay unfolds an unmatched paddle boarding Seattle experience. Bursting with a vibrant marine ecosystem, this lively bay lets you interact with frolicking seals and otters up close. Be you a beginner wave-catcher or a seasoned sea-rover, Moss Bay's tranquil waters are a paddle boarder's utopia.
Lake Washington, North
Venture next to Lake Washington, North, a calm oasis standing in stark contrast to Seattle's vibrant city hum. Paddle your path through placid waters, with the majestic Mt. Rainier keeping vigil in the backdrop. An early morning paddle here offers an invigorating start, setting the perfect tone for your day.
Seward Park
Enveloped by the pristine waters of Lake Washington, Seward Park is a celebration of natural splendor. Under the watchful gaze of bald eagles, paddle amidst verdant greenery and steal a serene moment with nature. It's the stand up paddle board Seattle experience that encapsulates the city's spirit.
Alki Beach
For a pulse-racing, adrenaline-charged paddle boarding session, Alki Beach is your destination. Renowned for its slightly more challenging waters, it's the perfect arena to test your skills and perhaps ride a wave or two. And the icing on the cake? A captivating view of the Seattle skyline that's well worth the paddle.
Unique Aspects of Paddle Boarding in Seattle
Seattle offers a truly distinctive stand up paddle boarding experience that combines natural beauty with the city's quirky charm. Let's navigate the ripples and waves of the Emerald City's paddle boarding scene together.
Weather Conditions
Seattle's weather mirrors the eclectic character of its waterways. Sunny days bestow tranquil waters, while overcast skies stir up a more adventurous wave, making paddle boarding in Seattle a riveting journey where each day brings a fresh thrill.
Local Paddle Boarding Culture
Seattleites have a deep-seated affection for water sports, with paddle boarding holding a special place. The city's paddle boarding scene is teeming with energy and camaraderie, boasting an array of rental shops, clubs, and annual races. Whether you relish solitary explorations or thrive in group paddles, you're bound to find your kinship here.
How to Stay Safe Paddle Boarding in Seattle
Safety is your true north when embarking on a paddle boarding Seattle expedition. Equip yourself with local rules of the water and always maintain a healthy respect for its power. Strap on your PFD and leash, remain alert to weather changes, and never undervalue the might of the Pacific Northwest's waters. If you're a paddle boarding novice, ponder over a class or guided tour to guarantee a secure yet exhilarating adventure.
Your Seattle Paddle Boarding Adventure Awaits with iROCKER
So why wait? Embrace the thrill of your paddle boarding Seattle adventure with iROCKER. Navigate the waters with style and grace, and let every paddle stroke draw you closer to the heart of the Emerald City.