Stand Up Paddle Boarding Melbourne, Victoria: 12 Best Spots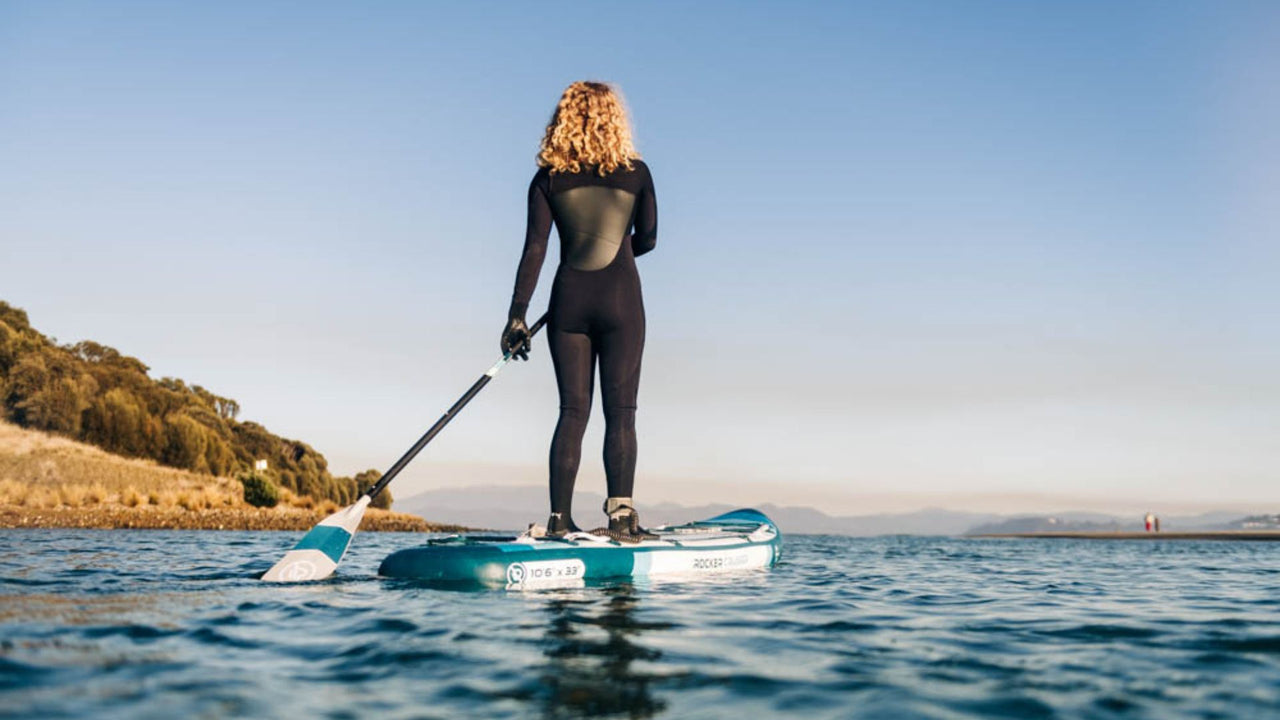 Paddle boarding Melbourne offers a unique blend of urban charm and natural beauty, providing an array of spots that cater to every paddler's dream. March to May (Spring) and September to November (Winter) are the best time to stand up paddle board in Melbourne. You can avoid extreme temperatures and tourist crowds by visiting Melbourne in these two periods. And airfare rates are typically lower than at other times of the year. Australia's summer months are usually hot and crowded with tourists from December to February.
If crowds don't bother you, summer is hot and busy, but good for water sports like SUP. Winter is cold and quiet, but SUP is possible if you are confident in your SUP skills and can ensure that you won't fall into chilly water! Here's a detailed look at each location, ensuring your SUP adventure is as memorable as it is exhilarating.
1. St Kilda Beach
One cannot discuss paddle boarding in Melbourne without mentioning the iconic St Kilda Beach. As a prime location for stand up paddle boards Melbourne, St Kilda Beach is the closest spot for paddle boarding if you are looking for somewhere near the city. The beach offers calm conditions thanks to its bay position, especially early in the morning, and is located just 10 minutes from the CBD and across from the famous Luna Park. Having transformed from a crowded hotspot to a clean and user-friendly destination, it is now perfect for a paddle in the bay.
Location and Launch Points: Accessible from the Marine Parade, the beach provides multiple launching spots along its length.
Water Type and Skill Level: The sheltered waters of Port Phillip Bay ensure a smooth SUP experience, accommodating all levels of paddlers. You can even head to the neighboring beaches if you want to challenge yourself.

Note:

The best time for a peaceful paddle is the morning. Check out the local cafes for a post-paddle snack.
Though parking can be tight during peak hours, the early morning offers plenty of options.
2. Mount Martha
Mount Martha, located in Melbourne's South East, is an authentic slice of paradise and a perfect destination for those seeking paddle boards Melbourne. Its tranquil beaches and crystal-clear waters make it a haven for stand-up paddle boarding enthusiasts, just an hour's drive down the coast from the city. Mount Martha Beach stands out as an ideal SUP destination in Melbourne, particularly for beginners, thanks to its shallow waters and crystal-clear visibility. Renowned for its scenic beaches and pristine waters, Mount Martha is an idyllic choice for those looking to enjoy the serenity of paddle boarding.
Location and Launch Points: Easy beach access for paddle boarders with clear entry markers for safety.
Water Type and Skill Level: The shallow and transparent waters make Mount Martha an excellent choice for beginners, offering a safe and enjoyable environment for learning and practice.

NOTE:

Mount Martha's panoramic views are best enjoyed on weekdays to avoid crowds.
The area is well-equipped with parking facilities, particularly outside the weekends when the influx of visitors is at its peak.
3. Mother's Beach Mornington
Mothers Beach in Mornington is located just under an hour southwest of the city and is a popular destination for families. With its shallow waters, soft sands, playgrounds, and picnic spots, it has everything you need for a fun-filled day out. Not just limited to SUP activities, the beach is also known for its family-friendly atmosphere, making it a favorite among paddle boarding enthusiasts and families alike.
Launching points: It is safest to consult with local authorities or experienced beach paddlers and check for signage regarding optimal launching points.
Safety and On-Site Facilities: With attentive lifeguards and superb amenities, Mothers Beach ensures a secure and comfortable paddle boarding experience, making it one of the best places to paddle board Melbourne.
Water Type and Skill Level: The inviting soft sands and calm, shallow waters beckon paddle boarders of all ages and abilities, establishing it as a secure haven for beginners and young enthusiasts alike.
4. Barwon River, Barwon Heads
The Barwon River in Geelong offers a peaceful retreat for both nature enthusiasts and stand up paddle boards Melbourne aficionados. If you're looking for a serene paddle boarding experience amidst the beauty of nature, the Barwon River near Barwon Heads is the ideal place. Perfect for stand-up paddle boarding, the river's calm waters are home to a diverse range of indigenous flora and fauna. The banks of the river are teeming with wildlife, and its clear waters reflect the verdant landscapes, creating a tranquil and picturesque paddling experience.
Launching points: You will find the best SUP conditions just before the beach.
Water Type and Skill Level: The river's gentle flow is suitable for paddle boarders at any skill level, offering a peaceful journey downstream.

Tips:

The river's tranquillity is most profound during the weekdays, making it a perfect time for those seeking solitude on the water.
5. Lysterfield Lake
Lysterfield Lake is nestled within a verdant park encircled by native bushland; the lake provides a serene backdrop, ideal for a meditative paddle boarding experience, and promises a refreshing retreat from the urban bustle, perfect for paddle boarders looking for still waters and a connection with nature. It is ideal for stand up paddle boarding because the water is calm and the views out on the lake are just stunning paddling around the lake's perimeter.
Park Facilities and Nearby Attractions: With amenities like BBQ spots and walking and mountain biking trails for the more adventurous, Lysterfield Park caters to more than just water sports, offering a well-rounded day out.
Launching points:

Beach Carpark at the southern end of the lake.
The boat ramp at Lysterfield Lake.

Water Type and Skill Level: The lake's calm surface welcomes paddle boarders of all levels, ensuring a smooth and enjoyable outing.
NOTE:

The lake is most tranquil in the morning.
Please note that lifeguards do not patrol the lake, and children should always be supervised. Checking for signage or local regulations before launching your paddle board is always a good idea.
6. Lilydale Lake
If you are in the eastern suburbs and heading towards the Yarra Valley, Lillydale Lake is a prime spot for stand up paddle boards Melbourne enthusiasts. The lake is modest, just 2 km around, making it ideal for beginners to try stand-up paddle boarding. Beyond SUP, the lake offers tranquil settings for a walk or a picnic, allowing visitors to relax and enjoy the serene environment. Lillydale Lake, known for its community spirit, regularly hosts local events and gatherings, fostering a welcoming atmosphere for both paddle boarding and social engagements.
Launching points: For the safest paddle boarding experience at Lilydale Lake, consult local authorities for exact launching points and follow posted signs.
Water Type and Skill Level: The lake's calm waters are suited for paddlers of all ages and abilities, providing a safe and inviting environment.

Tips:

Check the local council's calendar for events that could complement your paddle boarding schedule, offering a chance to engage with the community.
7. Williamstown Beach
Williamstown Beach is an especially great spot for families as the water is quite shallow, even further out. The waters here are generally calm with its sheltered position in Hobsons Bay. The beach offers a historical edge to your paddling experience, with calm waters set against a backdrop of Melbourne's maritime history.
Historical Significance: A visit to the nearby maritime museum can enrich the paddle boarding experience with a taste of local history.
Eating place: There is a kiosk nearby and places to have lunch or dinner.
Water Type and Skill Level: The shallow bay waters ensure gentle conditions and are ideal for paddlers at any skill level, especially those with children or just starting the sport.
Tips: For an enriching day, combine your paddle boarding with a visit to the many historical sites and dining venues Williamstown has to offer.
8. Lake Wendouree
Lake Wendouree, a historically significant and artificially maintained urban lake, sits at the heart of Ballarat, Victoria, Australia, and is a renowned spot for paddle boards Melbourne. Adjacent to the suburb bearing its name, the lake is conveniently located near Victoria Park and the Ballarat Botanical Gardens, offering a variety of attractions and recreational activities. Lake Wendouree is not only a popular destination for paddle boarding but also serves as a historical landmark. Since the 1956 Olympics, the lake has been a hub for water sports and continues to be a cherished location within the SUP community.
Launching points: Lake Wendouree Adventure Playground, Western side of the lake, behind Pipers restaurant. Various soft beaches around the lake are suitable for launching small crafts and paddle boards.
Water Type and Skill Level: Its wide expanse welcomes paddle boarders of all levels, with ample space to navigate and enjoy the scenery.
Cultural Points of Interest: Take the time to explore botanical gardens and Ballarat's historical offerings after your time on the water for a well-rounded excursion.
9. Lake Fyans
Out a little further in the Grampians National Park, not far from Halls Gap is Lake Fyans which has perfect conditions for stand up paddle boarding. Around 2.5 hours from Melbourne, it makes a great weekend getaway. You can stay at the Lake Fyans Holiday Park. Nestled in the Grampians, Lake Fyans is an adventurer's delight, set within the stunning Grampians National Park, and offers a combination of SUP exploration and the great outdoors. The expansive waters of Lake Fyans are perfect for those looking to engage in long-distance paddle boarding, surrounded by the park's natural beauty.
Launching point: Lake Fyans Holiday Park. They have wonderful views over the lake and the Grampians Hills.
Camping and Accommodation Options: The Lake Fyans Holiday Park provides a convenient stay for those looking to extend their SUP adventures over several days.
Water Type and Skill Level: The lake's conditions are ideal for all skill levels, offering both calm areas for beginners and more challenging sections for experienced paddlers.

Note:

Dogs are allowed at Lake Fyans Holiday Park on powered/unpowered sites only during off-peak season. However, dogs are not allowed in the lake or on the Foreshore. It is recommended to check with the park before booking as some breeds may not be accepted.
10. Mornington Peninsula
The Mornington Peninsula is a beautiful peninsula located in the south of Melbourne, Victoria, Australia. This popular tourist region is over 40 km southeast of Melbourne and boasts a variety of natural attractions, including both sheltered and open-sea beaches, scenic sights, and views. Additionally, visitors can enjoy various water sports, explore the numerous wineries, and get lost in the mazes. The Mornington Peninsula is a treasure trove of SUP spots, each with distinctive features, ranging from tranquil coves to vibrant coastal stretches.
Launching Spots: Safety Beach and Sorrento, paddle boarders can find the perfect spot for their skill level and preference.
Water Type and Skill Level: With spots ranging from calm waters to open seas, the peninsula is a playground for paddle boarders of every skill level.
NOTE: Mount Martha is the most recommended spot due to its shallow and clear water. But don't stop there. Explore more and you'll find surprises along the way. From Rosebud to Mount Martha, you can have a great day of paddle boarding.
11. Eastern Beach
The Eastern Beach is part of the Geelong Beach and another great spot for SUP. It's located right in the middle of Geelong. Not only is the place great for paddle boarding, but it is also perfect for camping, picnics, and other outdoor activities. All in all, it's a place where you can have fun all day doing various activities.
Urban Paddle Boarding: This centrally located beach provides easy access for those looking to incorporate a quick paddle session into their urban lifestyle.
Night Paddling Opportunities: The illuminated waterfront allows for a unique paddle boarding experience under the stars, offering a unique night-time SUP experience and a new dimension to the sport.
Water Type and Skill Level:

The calm waters are perfect for paddlers of all levels, with the cityscape providing a stunning visual backdrop.
With its central location, Eastern Beach is also ideal for those looking to squeeze in a quick paddle.

Practical Tips: For a novel SUP experience, try night paddling when the city lights offer a mesmerizing vista from the water.
NOTE:

Although there is generally sufficient parking, if you're heading out in the middle of summer, try to get there early to avoid some of the crowds!
It is open from Monday to Friday, 9:30 AM to 5:30 PM, Saturday 9 AM to 5 PM, and closed on Sunday.
12. Maribyrnong River
The Maribyrnong River in North/West Melbourne is a great option for paddle boarding. It serves as a charming urban waterway that winds through Melbourne's diverse neighborhoods. Paddling on the Maribyrnong River offers a unique opportunity to explore Melbourne's eclectic urban environment, with each turn revealing new sights. You'll have the Melbourne skyline as your backdrop, making for a distinctive and scenic urban paddling experience.
Launching point: Launch from Flemington and take in the sights of Melbourne as you lazily paddle down the river. Paddle past the Footscray Community Arts Centre and other urban landmarks.
Food and Entertainment Options Nearby: The river's proximity to vibrant areas like Footscray and Flemington presents a plethora of dining and entertainment choices.
Water Type and Skill Level: The river's gentle current is suitable for all paddle boarders, offering a smooth ride with urban scenery.
Tips: Take the opportunity to explore the surrounding neighborhoods for a rich cultural experience that complements your paddle boarding adventure.
NOTE: Only open over the weekend, on Saturdays and Sundays from 9:00 AM to 3:00 PM.
Wrap Up!
Melbourne's stand-up paddle boarding spots offer something for everyone, from serene rivers to lively urban waterfronts. Each location is rich with its own character and charm, providing paddlers with a plethora of options to explore. Remember to respect the environment, stay safe, and soak up the unique experiences each paddle boarding Melbourne destination offers. Visit iROCKER for more helpful information! Makes a great day out on the SUP.