A Paddle Boarding Dallas Adventure: Your Ultimate Guide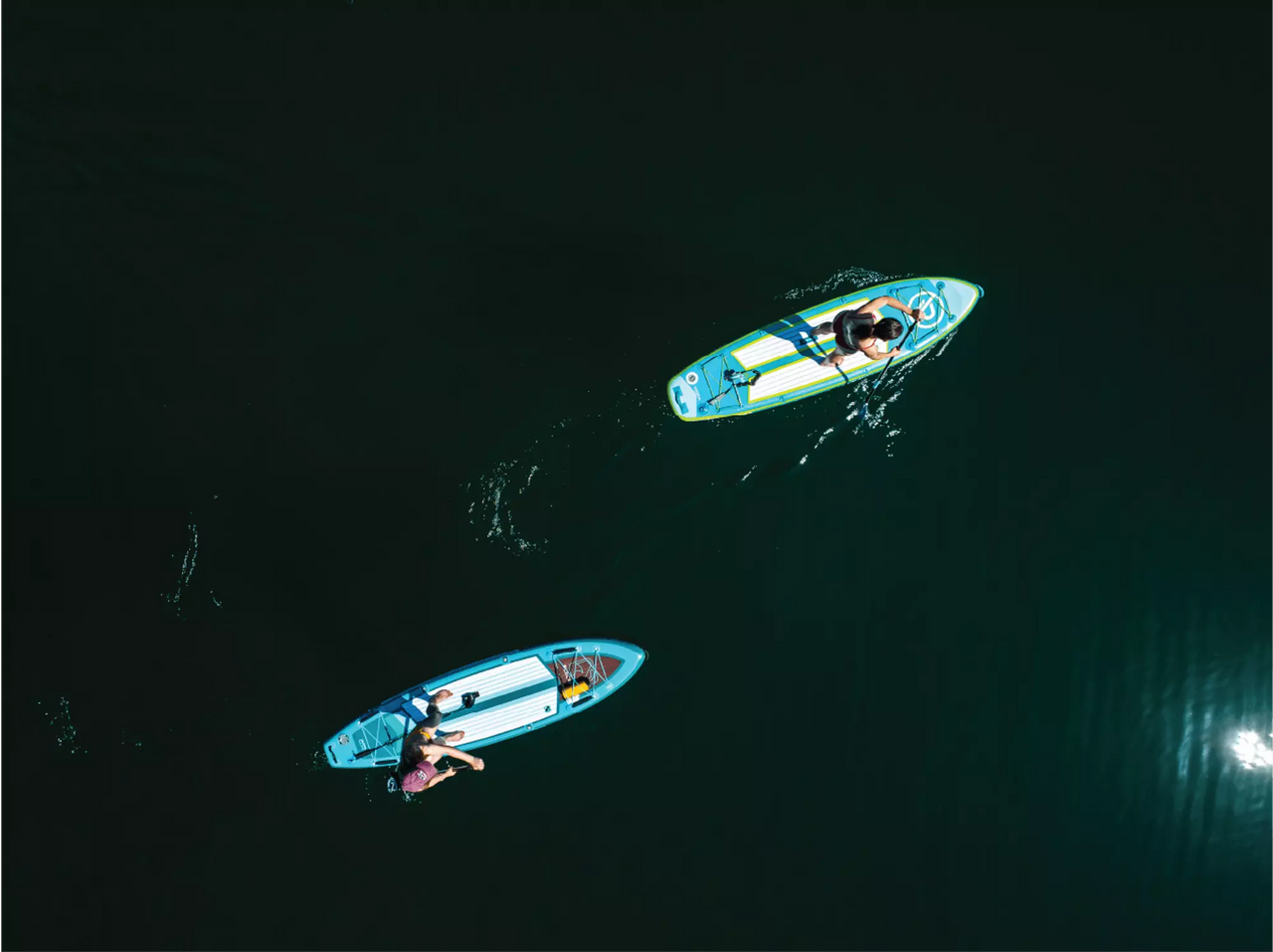 Welcome, outdoor enthusiasts and SUP adventurers! Your quest for the ultimate paddle boarding journey has brought you to Dallas. Beyond its vibrant culture and iconic charm, Dallas shines as a haven for paddle boarding! So, gear up with your iROCKER paddle board, and let's explore the top paddle boarding Dallas hotspots together.
Dallas, Let's Dive In!
Grab your board! It is time to unveil what Dallas has in store for us!
El Fork
Our exhilarating paddle board Dallas adventure begins at the enchanting Elm Fork of the Trinity River. This tranquil oasis is a sanctuary for newcomers testing the waters and seasoned boarders in search of a serene journey. As you glide effortlessly, encounter a rich tapestry of wildlife, transforming your urban getaway into a delightful nature-filled retreat.
Greenbelt Corridor
We then venture into the heart of the Greenbelt Corridor, a serene stretch of the Trinity River nestled between Lake Ray Roberts and Lake Lewisville. This verdant haven is a paradise for those who bask in nature's grandeur and a diverse spectacle of wildlife. Remember, Dallas paddle boarding is more than a sport—it's about immersing in the journey, connecting with nature, and embracing the thrill of adventure.
White Rock Lake
Nestled in the vibrant core of Dallas, White Rock Lake is a cherished locale among SUP enthusiasts. Uncover its 9 miles of picturesque shoreline, a serene sanctuary amid the city's dynamic pulse. The tranquil waters here are welcoming, inviting paddle boarders of all skill levels. The pièce de résistance? A breathtaking panorama of the Dallas skyline!
Brazos River
For adrenaline-fueled adventurers seeking a heart-pounding ride, the mighty Brazos River beckons. Its vigorous currents and exhilarating rapids present a more challenging stand up paddle board Dallas expedition. As you navigate its thrilling twists and turns, be sure to absorb the awe-inspiring vistas of the majestic Possum Kingdom Lake.
Lake Ray Hubbard
Our grand finale takes us to Lake Ray Hubbard, one of North Texas' largest lakes and a treasure trove for paddle boarding enthusiasts. Its vast 22,000-acre water body offers endless room for a memorable paddle boarding escapade. The enthralling view of its expansive horizon, coupled with awe-inspiring sunsets, captivates every adventurer's spirit.

Can You Paddle Board Year-Round in Dallas?
One of the many perks of paddle boarding in Dallas is the city's year-round accessibility. Courtesy of Dallas' mild winters, paddle boarding is a sport you can enjoy virtually anytime. But, as always, safety first! Be sure to check the local weather conditions before venturing out.
What Should You Wear For Paddle Boarding in Dallas?
Get set to ride the waves! Dress for success with feather-light, fast-drying garb, and toss in a wide-brimmed hat, sunglasses, and some high-SPF sunscreen to keep that Texas sun at bay. No adventurous soul should hit the waters without a trusty Personal Flotation Device (PFD) - safety, after all, is the true thrill-seeker's mantra!

As the mercury dips, slip into a snug wetsuit or drysuit, and pair it with water shoes or sturdy sandals for that perfect grip. Be sure to keep your board tethered with a leash.
Hydration is the adventurer's elixir, so fill your pack to the brim with refreshing water. And who could forget a waterproof bag to safeguard your cherished possessions, some treats for that sudden hunger pang, and your trusty camera to seize the captivating Dallas vistas?
Off you go, paddle in hand, ready to conquer the Dallas waters in style!
Extra Tips for Paddle Boarding in Dallas
Rent or Buy? If you're just starting out or are visiting, many of these spots offer paddle board rentals. However, if you plan to make paddle boarding a regular hobby, investing in a high-quality board like an iROCKER is the way to go.
Safety First: Always let someone know where you're going and when you expect to return. Even experienced paddle boarders can encounter unexpected situations.
Respect Nature: While enjoying the beauty of these Dallas waterways, remember to respect the environment. Avoid disturbing wildlife and always leave the place as clean as you found it.
Let's go!
So, are you ready to embark on your paddle boarding Dallas journey? With iROCKER, you'll explore diverse waterways and connect with nature like never before. Don't just ride the waves, make unforgettable memories! Join us, and let's make a splash together in the Dallas waters.