Must-Have Gifts for Paddle Boarders: 2023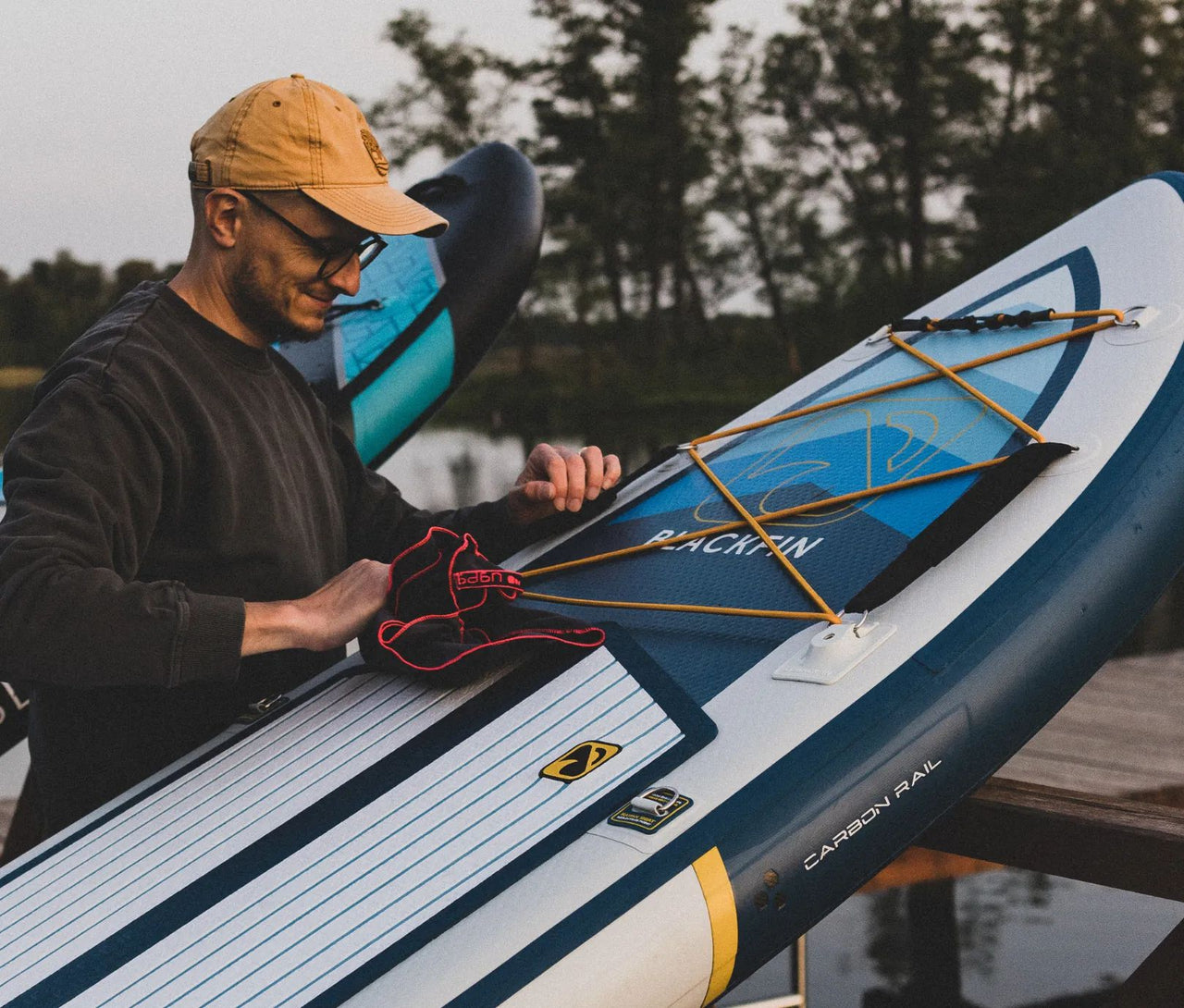 Paddle boarding is a fantastic water sport that combines adventure and relaxation on the water. Whether you're shopping for a seasoned paddle boarder or someone just starting, we've curated a diverse selection of gifts for paddleboarders. Let's dive in!
1. Inflatable Paddle Board
An inflatable paddle board stands out as an incredibly versatile choice. Ideal for travelers or those with limited storage space, these boards offer remarkable stability and top-notch performance on the water. Inflatable boards are celebrated for their durability and affordability compared to their rigid counterparts. Explore various models, sizes, and paddle board-themed gifts at iROCKER.
Prices: Starting at $499.
2. Adjustable SUP Paddle
A high-quality paddle board paddle is the cornerstone of any paddle boarder's gear. Consider gifting an adjustable SUP paddle, thoughtfully customized to suit the user's height and preferred paddling style. An adjustable paddle empowers the user to seamlessly switch between various paddling modes, such as cruising, surfing, or racing. Look for a lightweight, ergonomically designed paddle that is built to withstand the test of time.
Prices: Cost may vary based on materials and size with prices up to $300. Take a loot at iROCKER's array of quality SUP paddles.
3. SUP Leash
A SUP leash stands out as an absolute safety essential. An excellent gift for paddlers, a leash ensures the paddle board remains securely tethered, preventing it from drifting away should a fall occur. In addition to providing peace of mind, a dependable SUP leash aids in retrieving the board with ease and helps avoid collisions with fellow water enthusiasts. Seek out a SUP leash known for its strength, flexibility, and comfort at iROCKER for under $20.
Prices: Typically priced between approximately $20 and $40.
4. Personal Floatation Device (PFD)
A personal floatation device (PFD) is a vital piece of safety equipment providing added buoyancy and a great paddle boarding gift idea. In emergencies or when fatigue sets in, a PFD can be a lifesaver, and many models offer additional features like pockets, whistles, or lights, further enhancing safety and convenience.
Prices: Ranging from approximately $50 to over $100, but costing only $88.99 at iROCKER. Check out our life vest belt.
5. Hand Pump/Electric Pump
A paddle board pump is an essential tool for easily and efficiently inflating an inflatable SUP. This useful gift is sure to be cherished by any paddle board enthusiast. These pumps are time and energy savers, granting paddlers more precious moments on the water. Moreover, they assist in achieving the optimal air pressure, averting complications such as over-inflation or under-inflation that could impair the board's functionality and durability.
Prices:
Hand pump: Approximately $64
Electric pump: Prices vary from $120 to $160.
Both are available at iROCKER and many iROCKER boards offer deals when you include a pump with your purchase.
6. Kayak Hybrid Accessories
For those who relish versatile water adventures, consider exploring the array of Kayak Hybrid Accessories available at iROCKER. These options include:
Kayak Seat: Crafted from durable and comfortable materials, this seat features secure straps for attaching to your SUP.

Prices: Range from approximately $70 to over $130.

Kayak Blade: This blade can be attached to any iROCKER paddle, effectively transforming it into a kayak paddle. It offers a secure locking mechanism and angle adjustment for smooth and efficient paddling.

Prices: Our Kayak Blade is about $60

Kayak Bundle: This attractive bundle includes both the kayak seat, kayak blade, and kayak cushion, presenting savings for those who wish to enjoy the best of both SUP and kayak modes. The bundle is competitively priced at approximately $99.
7. Detachable Fins
Detachable fins deliver an excellent blend of versatility and convenience, allowing users to fine-tune their board's performance based on specific paddling conditions. These fins can enhance the board's stability, speed, maneuverability, and tracking. Different types of fins offer varying effects on the board's behavior, enabling users to experiment with different configurations to find their optimal setup.
Prices: Around $20
Unlock the potential of your Stand-Up Paddle Board (SUP) with iROCKER'S paddle board fins for under $35. Prepare for an exciting aquatic adventure that blends precision and style. Discover the transformative power of the right SUP fin.
8. Waterproof Phone Case
Preserve unforgettable moments on the water with a waterproof phone case. This invaluable accessory safeguards your phone against water damage, scratches, and drops. Some cases even include features like floating straps, touchscreen compatibility, or card slots for added utility.
Prices: Typically fall within the range of under $20 for each case.
This fully waterproof phone case from iROCKER is designed to keep phones dry and protected from the elements.
9. UV Protective Clothing
Protection from harmful UV rays is of paramount importance during paddle boarding adventures. UV-protective clothing encompasses rash guards, hats, sunglasses, gloves, and leggings designed to effectively block or reflect UV radiation. These items prevent sunburn and guard against skin aging and skin cancer. Moreover, they offer a lightweight and comfortable wearing experience as paddle boarding gifts.
Prices: Ranging from approximately $30 to $70+.
Find your best gift with iROCKER UV Protective Clothing starting at just $39.95.
10. Sunscreen
Shield your skin from the sun's rays with specially formulated sunscreen designed for water sports. These products are renowned for their water-resistant, reef-safe, non-greasy, and moisturizing qualities. They are available in various forms, including lotions and sprays, boasting SPF ratings that range from SPF 50+ to SPF 30.
Note: Always remember to apply sunscreen before heading out onto the water!
Price: Varies, typically ranging from around $29 to over $40.
Many types of sunscreen are suitable for your skin types at OLITA. All are priced under $36.
11. GoPro Waterproof Action Camera
Capture breathtaking photos and videos of your paddle boarding escapades with a GoPro waterproof action camera. These rugged cameras are designed to withstand water depths of up to 10 meters (33 feet) without requiring a separate housing. They can be mounted on helmets, chest straps, or selfie sticks, offering diverse angles and perspectives. It could be some of the best gifts for paddle boarders.
Prices: Ranging from $300 to over $500.
GoPro HERO10 Black and GoPro HERO9 Black are reasonable choices with a front display for easy camera control and framing.
12. Coolers
Maintain the freshness of your beverages and snacks with specially crafted SUP coolers from iROCKER, all of which are under $260. These waterproof, insulated coolers often feature convenient additions like cup holders, bottle openers, or fishing rod holders, enhancing your overall enjoyment of the water.
Prices: Generally range from approximately $99 to $399.
13. Backpacks
Ensure seamless organization during paddle boarding expeditions with durable and waterproof backpacks from iROCKER for under $130. These generously sized backpacks come equipped with padded straps, mesh pockets, and compression straps, simplifying your travel experience.
Prices: Backpacks are typically priced between $40 to $130.
14. Docks
Consider selecting specially designed inflatable, portable docks for versatile fun on the water for the whole family. These docks can be interconnected with other docks or paddle boards, creating larger platforms or even floating islands.
Prices: Range from $800 to over $1000.
iROCKER Docks start at just $399.
15. Waterproof Speakers
Enhance your paddle boarding experience with waterproof speakers from iROCKER. These wireless, rechargeable speakers are perfect for on-water entertainment, boasting features such as Bluetooth connectivity.
Prices: Vary depending on brands and products, typically ranging from $28 to $95.
16. Swimwear
Comfortable and quick-drying swimwear is an essential aspect of any water sport. Explore a range of stylish and functional swimwear items specifically designed for paddle boarding.
Prices: Range from approximately $50 to over $100.
Brought to you by iROCKER, Bermies masterfully combines aesthetic appeal with practicality in their wide-ranging swimwear line. Their assortment encompasses men's board shorts, trunks, and rash guards, as well as women's bikinis, one-pieces, and tankinis, and children's swimwear styles. Made from superior, airy materials, Bermies ensures enduring coziness and resistance to fading. Priced between $27.99 and $59.99, and available in numerous sizes and colors.
17. Drinkware Water Bottle
Stay well-hydrated during physical activities like paddle boarding with a dependable water bottle. Look for options that are leak-proof, insulated, and come with handles, carabiners, or straws for added convenience.
Prices: Typically range from $19 to $39.
Drinkware, a friend of iROCKER, provides a superb range of drinkware water bottles, with prices ranging from $18 to $55.
18. Water Boots
Water boots provide much-needed protection and traction when navigating slippery surfaces. They should ideally be flexible, breathable, and lightweight, often featuring beneficial attributes like rubber soles, toe guards, or heel loops to enhance user safety and comfort.
Prices: Typically fall within the range of $150 to over $200.
Gator Waders, in collaboration with our friends at iROCKER, presents a diverse selection of water boots. Priced at $138.99, we have styles to suit every adventurer. We have something to suit every preference and budget.
19. Windbreakers & Jackets
Windbreakers and jackets deliver ultimate comfort and protection, especially during windy or chilly weather conditions. Lightweight, breathable, and water-resistant, these garments often feature hoods, pockets, and zippers, ensuring a warm and convenient paddle boarding experience. iROCKER offers a range of windbreakers and jackets specially designed for paddle boarding.
Prices: Vary, typically ranging from $90 to over $200.
Discover the variety of jackets we offer from Tropical Seas Clothing with prices starting at just $67.50. With options to suit any preference, you'll find the perfect one.
Ride the Wave Now!
Dive into a curated selection of gifts perfect for those passionate about paddle boarding. Whether commemorating a special moment or just expressing your affection, these gifts for paddle boarders promise to elevate every water adventure.
Happy shopping!