Paddle with Paws: Top Dog-Friendly SUP Boards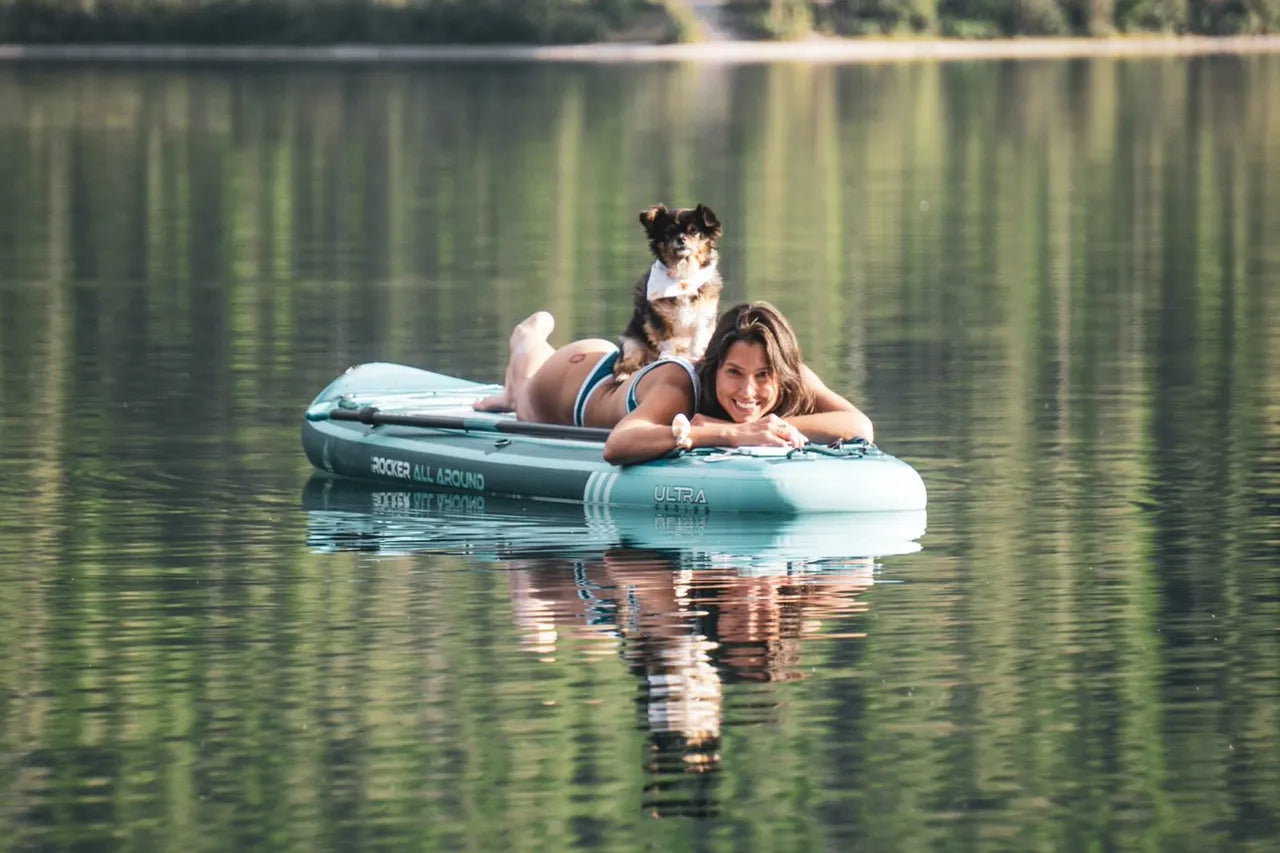 Ahoy, fellow adventurers and dog lovers! If you're seeking to combine your love for stand-up paddle boarding (SUP) with your fondness for your furry friends, then you've come to the right place. Let's explore the top dog-friendly SUP boards for you and your canine companion. Get ready to make a splash with your pup and embark on some unforgettable adventures together!
Can You Bring Your Dog on Board with You?
For experienced paddle boarders and dog enthusiasts, rest assured that taking your furry companion along for a SUP ride is definitely achievable. As one of the leading SUP manufacturers, iROCKER guarantees that our boards can handle dogs' nails without popping. With a variety of suitable boards to choose from, you and your pup can enjoy the open water together anytime you want.
Key Features of Dog-Friendly SUP Boards
When embarking on a SUP expedition with your furry friend, there are several vital features to take into account. Let's dive into the key elements that'll make your paddle board shipshape for your canine companion.
Stability
Steady as she goes! Stability is the backbone of any dog-friendly SUP board. A broader board ensures a firmer footing for you and your trusty sidekick, minimizing the chances of unexpected plunges into the briny deep. Set your sights on boards with a width of at least 32 inches and a thickness of 6 inches for smooth sailing with your beloved pup.
Traction Pads
A good traction pad is essential for your dog's comfort and safety on the board. The pad should be soft and grippy, allowing your pup to maintain their footing while you paddle. Opt for boards with full-length traction pads, or consider adding an aftermarket pad designed specifically for dogs.
Deck Space
Ample deck space is another key feature for a dog-friendly SUP board. Make sure that there's enough room for your dog to sit or stand comfortably without hindering your paddling or balance. Generally, a board that's 10 to 12 feet long should provide enough space for both you and your canine companion.
Durability
Last but not least, durability is paramount. A dog paddle board should be built with high-quality materials, such as military-grade PVC, to withstand your dog's nails and the rigors of regular use. Inflatable boards are a popular choice, as they offer a high degree of durability and resistance to punctures.
Top Dog-Friendly SUP Boards on the Market
Now that we've covered the essential features, let's dive into the top dog-friendly SUP boards that will help you and your pup have a tail-wagging good time on the water.
BLACKFIN MODEL XL
The BLACKFIN MODEL XL ensures a fun and safe experience on the water. With its 34" width and 11'6" length, this board provides ample space and stability for you and your four-legged friend. Constructed with military-grade PVC, it's designed to handle any adventure you embark on. Plus, the soft deck pad offers a secure grip for your pup's paws, making it the ideal choice for a dog paddle boarding excursion.
iROCKER Cruiser 10'6
Introducing the iROCKER Cruiser 10'6 - the ultimate dog-friendly paddle board for both new explorers and seasoned seafarers alike! Its wide and stable design makes it perfect for all skill levels, while the spacious deck and full-length traction pad help your trusty canine stay comfortable and safe. So, hoist the mainsail and embark on a thrilling aquatic adventure with your beloved pup by your side.
iROCKER CRUISER ULTRA™
The iROCKER CRUISER ULTRA™ is a top-notch choice for paddle boarding with your dog. At 33" wide and 10'6" long, this board provides exceptional stability and abundant room for you and your furry companion to enjoy together. Made from military-grade PVC, this board is built to withstand your adventurous outings. The comfortable deck pad ensures a secure and cozy surface for your dog to enjoy the ride.
BLACKFIN MODEL X
Next up, we have the BLACKFIN MODEL X. This premium inflatable SUP board is a true champion for dog lovers everywhere. With an extra-wide deck and carbon-reinforced construction, it's built to handle even the most spirited canine sailor. Use the dual cargo storage areas to stash all your gear (and treats!) for a full day of adventure. Plus, the ultra-comfortable deck pad provides extra grip for your four-legged friend.
Board Accessories for Paddling with Your Dog
To ensure your paddle boarding adventures with your pooch go swimmingly, here are some essential accessories to consider:
Dog Life Jackets
First and foremost, safety is paramount for you and your furry first mate. Equip your dog with a well-fitting life jacket to keep them afloat and visible. Look for options with grab handles for easy lifting and bright colors to increase visibility.
Leashes
A trusty leash is a must-have for any dog-paddling duo. Choose a coiled SUP leash that connects to your board and your dog's life jacket. This way, you can keep your dog close by, and the coil will prevent any unnecessary tangles.
Board Carry Straps
Transporting your SUP board to and from the water can be a breeze with the right carry straps. Adjustable straps with padded shoulder support will make it easy for you and your dog to navigate the journey to your next adventure.
Waterproof Gear Bags
Safeguard your precious cargo with trusty waterproof gear bags. Ideal for stowing treats, and other essentials, these bags secure smooth sailing and great times on the high seas with your furry buddy.
Making Waves Together with iROCKER SUP
For spirited, seasoned adventurers who adore dogs, the joy and camaraderie of sharing SUP experiences with a four-legged companion cannot be overstated. The listed paddle boards above are top-notch dog friendly SUP boards that, along with the right accessories, will give you and your dog the time of your life out on the water.
So, what are you waiting for? Grab your paddle, puppy friend, and set sail for a world of adventure with iROCKER SUP. Happy paddling!