Adventure
Q & A with Adventure Duo Marc-André Vachon & Stephanie Bureau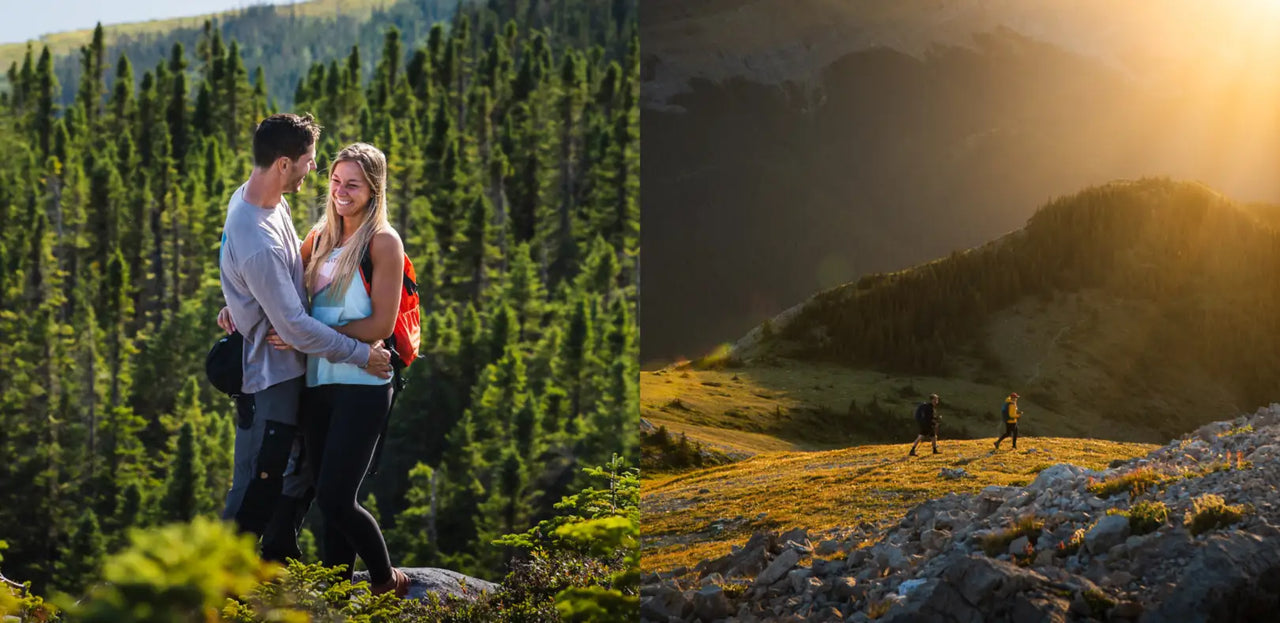 Born and raised in Quebec, Marc-André Vachon and Stephanie Bureau could have easily been content to remain within their home country's borders, exploring its glacial lakes and unparalleled scenery. And they definitely have.  
But with a shared love for adventure, the pair have taken their wanderlust—and their paddle boards—to British Columbia, the Pacific Northwest, the Canadian Rockies and more. Read on as we catch up with Marc and take inspiration from the pair's always-growing SUP bucket list.   
Where is home base for you two?  
We are still living in Quebec City. We spend a lot of time on the road both for adventure and also for work since Stephanie is a travel nurse. 
How did you two meet? 
We actually met on a dating app! It is so funny to look back at it and think that those apps are actually working!  
Were you both always adventurous?  
We both grew up in families where we would spend a lot of time in the great outdoors, and we both went on camping and hiking adventures with our family. Quebec has so many beautiful places to explore and our passion for the outdoors all started with those early family adventures. 
How did you get into paddle boarding? 
We bought our first paddle board in 2021. We were looking to try something new and we just decided to get one and try it. We also wanted to try to do a SUP camping adventure. So, we packed up our camping gear and strapped it on our board and went camping on this small island that we founded on a lake in Quebec. We loved it so much that from that moment we started to do more paddle boarding. 
What iROCKER boards have you used and what do you like about them?  
Our first paddle boards were the iROCKER NAUTICAL boards. They were the perfect option to start with. We recently switched to the BLACKFIN and our friends and parents were happy to snag our NAUTICAL boards! We love the BLACKFIN series because these boards allow us to do SUP camping since they have a higher weight capacity. They can carry all our gear and are still super stable.  
What do you like most about paddle boarding? 
Paddle boarding gives us the option to explore more. We want to explore different places and landscapes and paddle boarding lets us do that. We also get to the see the mountains from a different perspective and we love it! 
How is hiking with your paddle board? What advice would you give others who love to hike and camp but who haven't tried adding their paddle board to the adventure yet? 
We do hike with our paddle boards to reach alpine lakes, and hiking with your board is super similar to backpacking in terms of the weight you have to carry. We enjoy the hike itself, it's part of the whole experience. If you are into camping and you'd like to add your paddle board to the equation, I would suggest doing some research first. Find a spot where you can do SUP camping and start with something small. Pack your camping gear in dry bags and go for it!  
What motivates you to get outside? 
I think it is the experience of exploring and discovering new places. We were both really active before we met, and then we started to hike together, travel together and now it just our routine. We both feel better being outside. 
What are some of your favorite places you have taken your paddle boards?  
The Canadians Rockies are definitely the most beautiful place that we have taken our paddle boards. The lakes and mountains are just out of this world and we can`t recommend it enough to anyone! 
Where are you currently exploring?  
Right now, we are exploring the Pacific Northwest. It is such a beautiful place to explore, we love it! So far, we have spent some time in Washington state and explored the North Cascades and Mount Rainier area and it is so beautiful! We plan to explore Washington for a month or two. We have a lot of backpacking trips planned and we are really excited about it! The lakes are also so beautiful and dreamy and we are more than happy that we have our paddle boards with us.  
Stephanie, how do you split your time between nursing and adventuring?  
The beautiful thing about travel nursing is that it allows us to explore all these different places outside of Quebec City. Since I made the switch from a 9-5 nursing job to travel nursing, I usually work more during the winter since it's the time of year we spend less time in the mountains. But, even when I do work, Marc and I still have time to explore and enjoy the outdoors together on my off days.  
Marc, what do you do in the downtime between adventures? 
I am also a personal trainer. Before Stephanie and I met, I was working in a gym 9 to 5 for about 5-6 years. My passion for photography then grew a lot and I decided to switch from working in a gym to working remotely with my clients. I then started my own online business and now I get to train and help people to reach their goals online. It's been so nice to be able to do personal training and photography at the same time.  
 Are you both into photography? Or does one of you take most of the pictures/videos? 
We both do photography. Stephanie was doing photography by herself before we met, and she was really good at it. I then learned a lot from her and started to invest more time into it. Since last year, I spend more time behind the camera and Stephanie does more videos than me. We both love to work on projects that involve going on adventures. Our goal as photographer and content creator is to inspire others to explore and enjoy what the outdoors has to offer.  
How do your travel styles differ/how are they alike? 
They don't differ that much. We are both more "go with the flow" and don't like to plan everything out. One thing we can for sure agree on is that we both want to travel where there are mountains and alpine lakes! 
What locations are on your SUP bucket list to paddle next? 
There are a couple of places that we are dreaming of taking our board with us! 
Lake Parón

in Peru

 

Jökulsárlón

Glacier Lagoon in Iceland

 

The Napali Coast in Hawaii

 

Torres del Paine National Park in Patagonia

 

Geirangerfjorden Fjords in Norway

 
Why did you choose iROCKER? 
We had heard of iROCKER from a friend that owned an iROCKER board for a long time. So, we decided to get 2 boards and we fell in love with our boards and the brand.  
You have an aspirational lifestyle! What advice do you have for others looking to get out into nature more? 
Just do it, get outside, explore, and live your own experiences. The world is such a beautiful place, and it is so rewarding to discover new places by your own. You don't have to get on a plane and travel to another continent—explore your own city, province or state. We can guarantee that you will find some hidden gems arounds you.  
Follow along with Marc-André and Stephanie's travels on Instagram! 
 For someone who always want the best of the best—and will settle for nothing less. Check out our luxe gear and accessories collection to stand the test of time and look good while doing it.