Grand Lake Paddle Boarding: The Perfect Getaway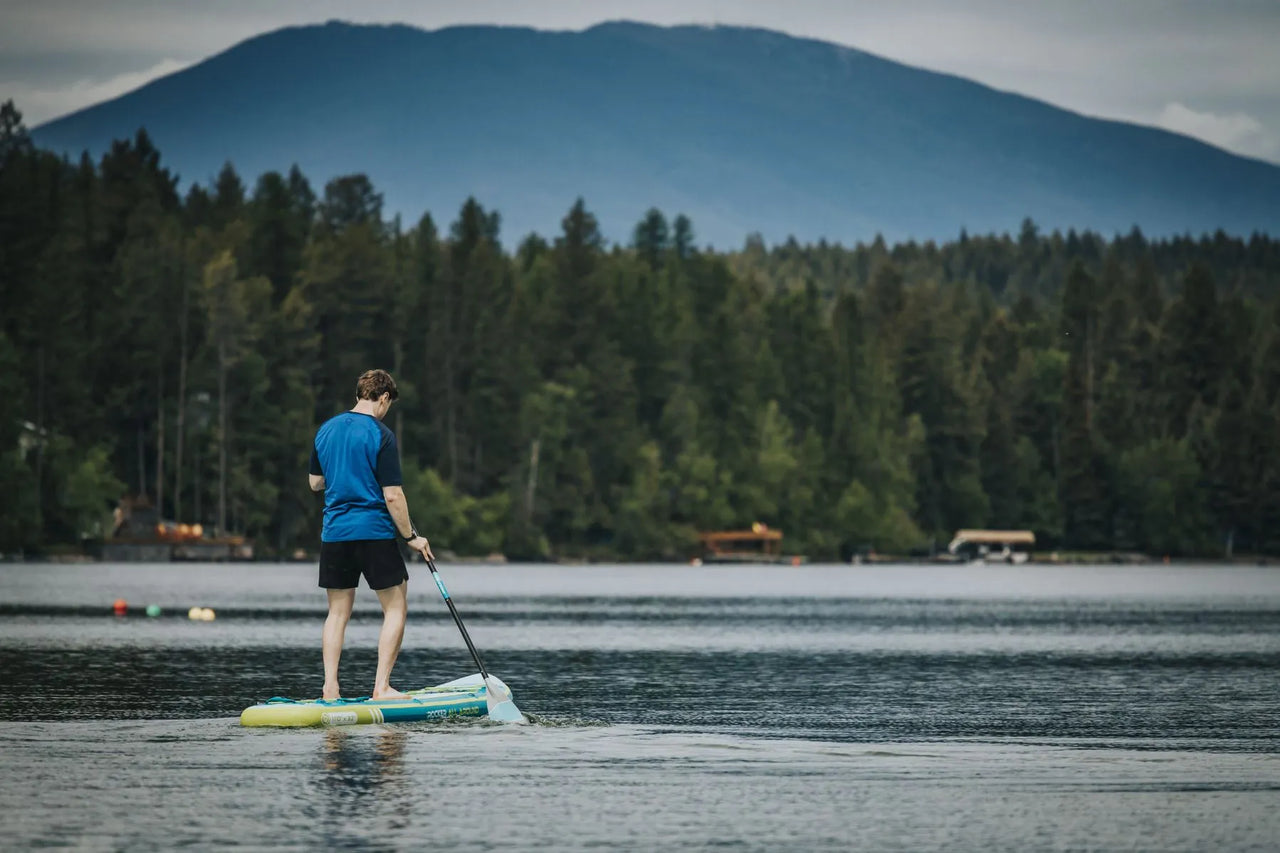 Grand Lake paddle boarding is an experience you won't want to miss! With crystal clear waters and stunning views, paddling this Colorado gem is an unforgettable experience. Whether you're a seasoned professional or an excited beginner, the lake's calm waters are perfect for a day of paddling. Don't miss out on the opportunity to explore the natural beauty of Grand Lake from a new perspective!
Why You Should Consider Paddle Boarding on Grand Lake
No matter where you SUP, adventure is sure to be had. But if you're looking to explore calm waters and serious natural beauty, Grand Lake should be at the top of your list.
Gorgeous Scenery: Grand Lake is surrounded by breathtaking mountains and stunning waters. Paddle boarding allows you to get up close and personal with this stunning scenery in a way that hiking or driving simply can't match.
Fun Exercise: Whether you are an expert paddler or just getting started, paddle boarding is a great activity for people of all skill levels! And it provides a total body workout. Go hard and you could burn some serious calories all while having fun outside with friends.
Relaxing Experience: There's something incredibly peaceful about gliding across the water on a paddle board. Just being out in nature provides incredible stress relief.
Paddle boarding on Grand Lake is an experience like no other. It's a unique opportunity to get some fitness while having fun, unwinding, and taking in the area's natural beauty. So why not try it out?
Top Paddle Boarding Spots Around Grand Lake, Colorado
Shadow Mountain Lake
Shadow Mountain Lake is a picturesque body of water located in Grand County, Colorado. It spans 1,346 acres and is surrounded by stunning mountain views, making it a popular spot for paddle boarding enthusiasts.
One of the unique features of Shadow Mountain Lake is its calm and peaceful waters. Unlike other nearby lakes, the waters here are generally still and free of strong winds, providing the perfect conditions for paddle boarding.
The summer months are the best time to come there when the weather is warm and the water is at a cozy temperature. Visitors can enjoy long days of paddle boarding under the bright Colorado sun, taking in the beautiful scenery around them.
Grand Lake
Grand Lake, which sits in the heart of Colorado's Rocky Mountains, is a destination that everyone should see at least once in their lifetime.
The lake has almost 60 miles of shoreline and numerous locales perfect for paddle-boarding with stunning views of the surrounding mountains and forests.
East Inlet Bay
Another highlight of Grand Lake paddle boarding spots, East Inlet Bay is well-known for its tranquil waters and breathtaking views of the neighboring Alps. Another excellent location is the Shadow Mountain Reservoir, which is popular among paddlers seeking a bit more of a challenge.
June, July, and August are the most popular months for visiting and the most ideal for paddle boarding and admiring the natural beauty of the lake.
Lake Granby
Lake Granby is another breathtakingly attractive Colorado location. One of the unique features of Lake Granby is its diverse fish population which includes rainbow trout, kokanee salmon, and Mackinaw.
Lake Granby is also surrounded by astonishing mountain vistas, making it a perfect spot for nature lovers and outdoor enthusiasts. Visit during the summer months and you're sure to leave feeling refreshed and rejuvenated.
Monarch Lake
Monarch Lake is a true gem of the Colorado Rockies, offering breathtaking views of the sky and land that are truly unforgettable.
Monarch Lake is a feast for the eyes, whether you go in the summer and see the bright blue skies above or arrive in the winter and see the snow-capped peaks looming majestically in the distance. And with the lake and surrounding wilderness accessible in all four seasons, it's the perfect destination for anyone seeking a year-round outdoor adventure.
Willow Creek Reservoir
This place offers visitors an opportunity to enjoy the beauty of nature year-round. With four distinct seasons, visitors can experience a range of activities that are suited for any weather condition.
During the spring and summer months, the lake is excellent for boating, fishing, swimming, and of course, paddling boarding, while in the winter, visitors can enjoy ice fishing and snowshoeing.
But no matter what the season, one thing is certain – the breathtaking scenery of Willow Creek Reservoir is sure to leave a lasting impression on all who visit.
Tips for Paddle Boarding on Grand Lake
Grab your paddle and let's make a splash with these insider tips for paddle boarding on the spectacular Grand Lake.
1. Check the Weather Forecast Before You Go
Before embarking on any paddle boarding adventure, it's crucial to check the weather forecast. The right conditions can make or break your experience.
Keep an eye out for any sudden changes in the weather, such as rain or storms. Paddle boarding during a storm is not only unpleasant but can also be dangerous due to lightning and choppy waters. Always prioritize safety and reschedule your trip if the weather turns sour.
2. Wear Appropriate Clothing
The weather conditions in Grand Lake can change quickly and unexpectedly, so it's essential to dress in layers that can be easily added or removed as needed to stay comfortable and safe.
3. Know Your Limits
Paddle boarding can be physically demanding, and if you overestimate your abilities, you may exhaust yourself quickly, increasing the risk of injury or getting stranded.
4. Respect The Environment
Respecting the environment is important for your own safety and enjoyment. By being aware of your surroundings, following any posted regulations, and taking steps to minimize your impact on the environment, you can prevent accidents and other negative experiences while paddle boarding on the lake.
5. Come Prepared
Having a paddle board leash, life jacket, and paddle, as well as water and food, will not only keep you safe but also allow you to fully enjoy the experience without worry.
Grand Lake paddle boarding can be an exhilarating and enjoyable experience for paddlers of all skill levels. Prepare before you go and you're in for a memorable adventure.