Fitness
Disconnecting with SUP Record Holder Tori Kubick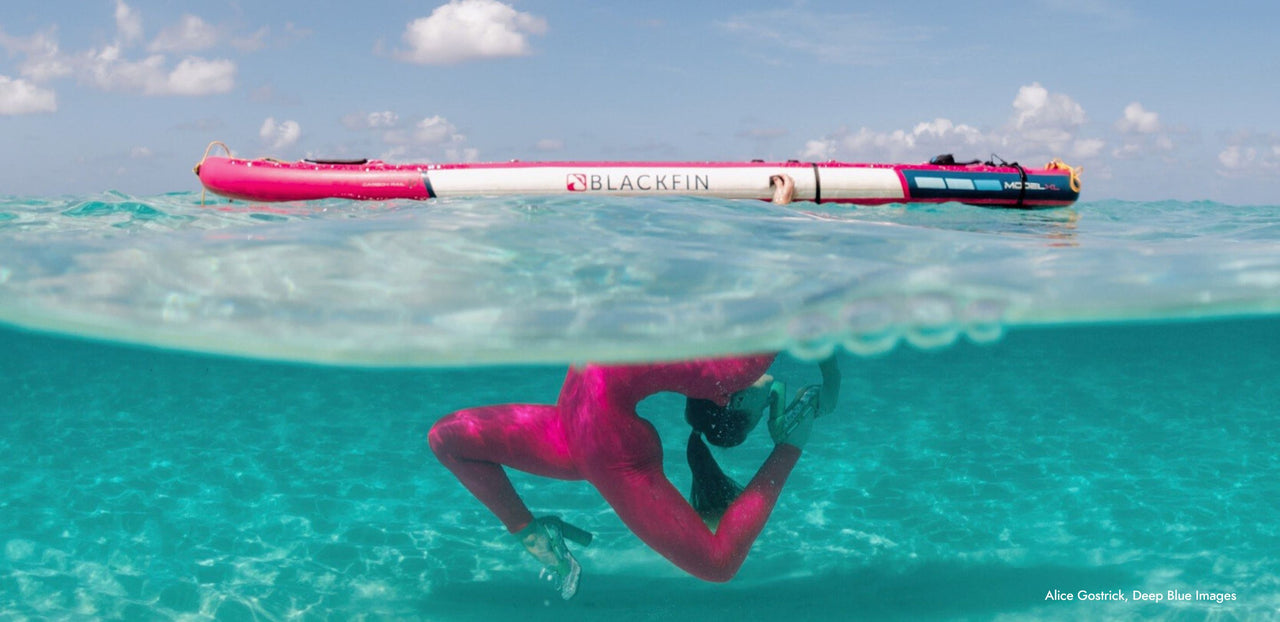 Learn more about how this contortionist is taking her artform to the water. 
You might be wondering just what contortionism, a body bending—and mind bending—artform, has to do with stand up paddle boarding. Enter Tori Kubick, a 29-year-old New Jersey native who is finding new ways to push her body even further.  
"I grew up dancing and did a little bit of gymnastics," says Tori, who now splits her time between New Jersey and Wilmington, North Carolina. "I always loved to stretch and was always a bit bendier than others, but not by any means where I am today. I always wanted to stretch more. Whenever we would train splits, everyone would be crying and didn't hate it," she laughs. 
But it's not every day you see a contortionist, so it's no surprise that Tori's first encounter with the artform didn't happen until the age of 21. "I was performing in a dance show and a special contortionist act came on and she performed this bendy, beautiful, magnificent, strong number and I was mesmerized," she says. "I didn't really know that existed, I was just always surrounded by dance. I was like, 'That's actually what I want to do.'" 
FAR AWAY FLEXIBILITY 
While she had strong legs from years of dance, contortionism requires upper body strength, flexibility, and intense control. After training with the female contortionist she had first encountered, Tori was told to go to Mongolia, where this artform has been practiced for centuries.  
"It's what they're known for," explains Tori. "Like in America how so many little girls go to ballet when they're 5. Instead of that, they go to contortion class." Just like with young ballerinas or even gymnasts in the US, many young Mongolian girls will practice contortion while they're young, while a few stand outs will continue to progress. "They're fabulous, they have such strong minds, so focused and very patient and very aware," says Tori who spent a few weeks in Mongolia training alongside them.  
After returning to the States, Tori found a Mongolian coach in Vegas, and would travel there to train intermittently, continuing to brush up on what she had learned and build her repertoire. "I train pretty much daily. I do take off days, but I try to do a little bit every day at least, to move and keep working my body."  

TAKING TO THE WATER 
Like many artists, the pandemic left Tori without any work or events lined up. "I was training inside during the pandemic, everything felt a little bit stagnant," she says. "So, I asked myself, 'When was the last time I was really happy?'"  
To answer that question, Tori goes back to an afternoon spent on the waters of the Pacific Ocean. "Before I even really did contortion, I had a gig on a little cruise ship, and we did all if Hawaii. The performers from the boat, we all went out and rented paddle boards and went out in Kona. It was just beautiful. And then a pod of dolphins came and were super friendly. It was absolutely insane. And that was the first time I was ever on a paddle board." Talk about the ultimate introduction to the SUP lifestyle.  
"So, I thought back to that moment and was like yes! Maybe I can get back on a board and combine all the things that I've been working on," states Tori. "So, I bought a paddle board online and went out and decided to my contortion routine onto it, and I liked that it was super challenging. Transitioning to the water gave me freedom, upped my game, and challenged my balance which was really cool and made me feel a bit more in tune and in touch." 
RECORD SETTING 
Her most recent feat? As if doing contortion on a paddle board isn't enough, Tori recently set a Record Holder's Republic Record by doing a handstand for 17 seconds on an iROCKER CRUISER, while in motion! Using the Bixpy motorized fin in Wrightsville Beach, NC, Tori cruised at 4 knots all while holding a handstand. 
The idea came about when Tori began using the Bixpy motor on her board. Without the need to paddle, she was freed up to do all kinds of things with her body—handstands included. "The hardest thing was beginning the handstand when the board was moving quickly," she says, adding that it took her many attempts before hitting 17 seconds. But that doesn't mean she doesn't already have plans to try to break her own record.  
For her next act, Tori would like to set a Guinness World Record. "Another record idea would be the highest handstand on a SUP," she says. "Perhaps at the London Sky Pool if I can get permission!" 
In addition to setting records and finding time to paddle for fun, Tori has performed on reality TV shows including Southern Charm and The Real Housewives of New York City and was featured on Ripley's Believe It or Not and The Tonight Show with Jimmy Fallon. "I'd also love to write a book, develop new paddle board skills, and do some more movie things. I think a scary movie contortion scene would be really fun," she laughs.  
"There are still things I have to kind of experiment with. I just love how there's so much freedom and creativity. And that's also why I really love the water. It gives me another habitat and another space. I can really disconnect, in a good way."  
To learn more about Tori, visit her website at contorition.com 
Or follow her on Instagram where you can catch a video of her record handstand. @con_tori_tion