Adventure
Choose Your SUP Adventure Style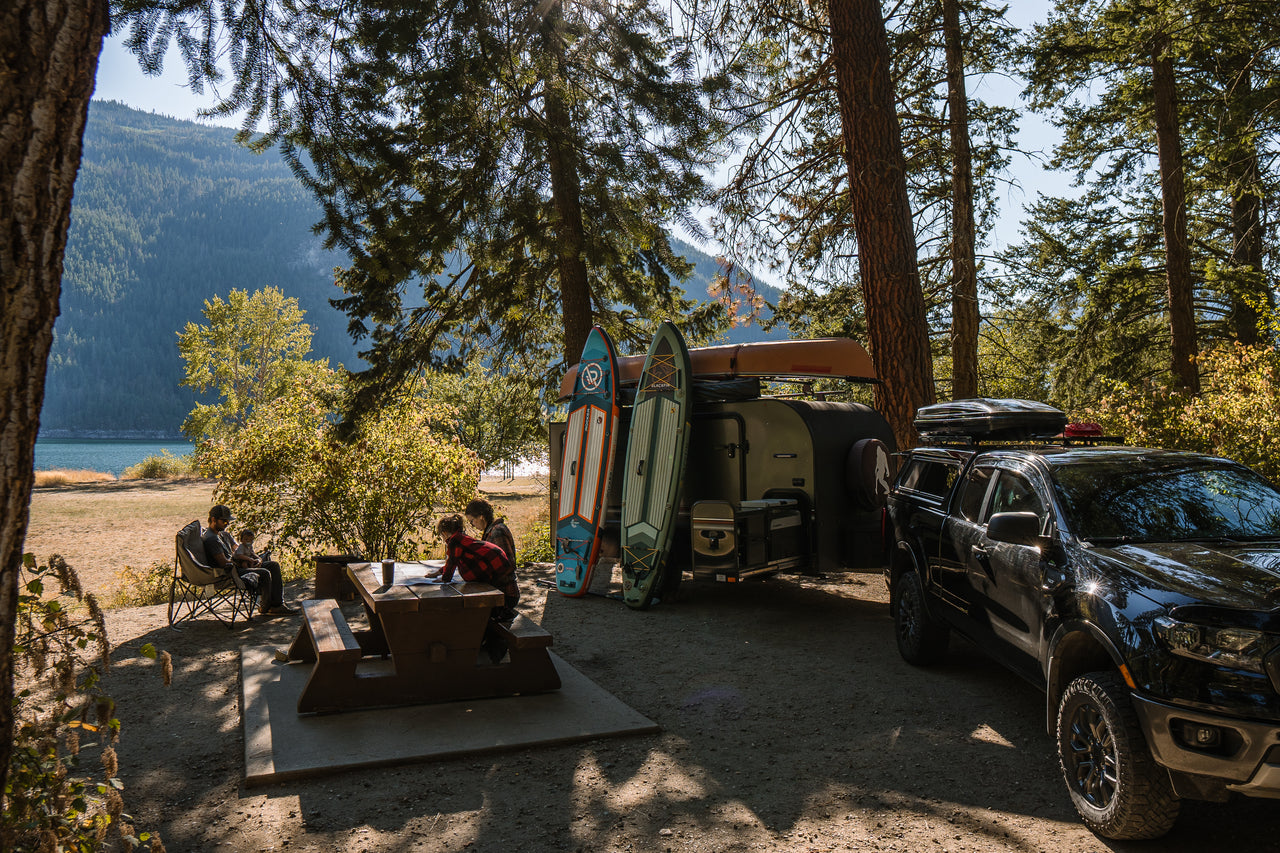 Original Vs. ULTRA™ Collection Paddle Boards
There is no right or wrong when it comes to how to explore waterways on a paddle board. And we have learned over the years that the size and weight of an inflatable SUP can affect those who live in cities, use public transportation, or explore the country in a van or camper. 
We knew it was important to reinvent our most loved paddle boards into a lightweight compact package for convenient transport and storage and continue our mission in creating something for everyone. 
It is time to discover what inflatable SUP is best for you and your lifestyle! 
Original Technology for Inflatable Paddle Boards
Since 2013, the Original Technology has been tested and tried to create the best selling paddle board on the market today. The functional and durable build of the iROCKER makes it a reliable pick for people of all sizes, skills levels, and budget restrictions.  
Construction  
Why choose Original technology? Original technology can be found in all models excluding the ULTRA™ Collection. These lightest paddle boards are made with a double or triple layer PVC construction making these boards reliable and durable on your adventures; and will protect your board from rocks, fallen down trees, oyster beds and more.  
Storage & Travel 
How you transport or store your SUP can determine what type of paddle board best suits your lifestyle. Original Technology boards are going to take a up more room in comparison to ULTRA™ boards. Easily roll up your board and store in your SUP duffle and you're ready to go!
If you are someone who likes the option of rolling your SUP in a Premium Wheeled SUP Duffle or wearing it as a backpack, this is the best choice for you! The 41" x 16" x 12" SUP duffle allows you to store your 3-piece paddle, paddle board pump, fins, leash, repair kit and has extra room to pack clothes and gear for your next trip.
Why pay for two checked bags at the airport when you can check one with all your essentials? 
ULTRA™ Technology in Stand Up Paddle Boards
In 2022, the ULTRA™ Collection was released as the most compact SUP on the market, reinvented to make hiking, biking, and traveling with your SUP that much easier. Getting to the water and on you SUP has never been simpler, with more time to experience fun on the water. 
Construction 
New, innovative cross-threaded construction delivers multiple benefits. While the triple-layer PVC composite delivers the same dependable quality used in Original Technology, with this new type of construction, it has improved board rigidity and stiffness; plus it cuts down on the raw materials needed. Most importantly, allows the board to fold in half long ways before rolling, cutting down the size in half when rolling the SUP up to store away.  
Storage & Travel 
Are you limited on storage space or wanting to hike to remote destinations with your SUP? Understanding what works for you is key to picking out what SUP is best for you. The ULTRA™ Collection enhanced backpack is 50% smaller than that of the Original Technology SUP duffle, making compact convenience the ULTRA™ Series most attractive feature, especially for those hiking, biking, backcountry paddling, road trips or even overseas destinations.  
And hey, let us not forget about our minimal space paddlers. Compact convenience is not just for traveling it is also for those with limited storage. Those with smaller areas in their home, apartment, van, or camper to store a SUP will have an easier time finding space for a smaller 10" x 16" x 21" backpack.  
Whether you are looking for an inflatable SUP to use right in your backyard or travel across the country with, we have options for you to pick from. Opportunities are endless and we want YOU to enjoy every moment you can on and off the water without a worry in the world about how you are going to bring SUP along for the ride. 
About iROCKER 
Since 2013, iROCKER has been the top online destination for all your paddle boarding needs. They have an inflatable paddle board for everyone. Explore their versatile line of all-around inflatable SUP boards. Or check out their ULTRA™ Collection. These lightweight boards are designed to go with you anywhere—no waterway is off limits. Have kids? You'll want to check out the NAUTICAL Kids SUP boards. These are smaller boards made just for kids! What about paddle boarding accessories? iROCKER has every angle covered. Find an electric pump for your blow up paddle board. Or get a cooler that straps right onto your board! Make your next adventure on the water an adventure to remember with iROCKER! 
Get all the gear you need for an amazing paddle boarding adventure at The Gear Junky collection!