2-Person Paddle Board: Features, Models & Should You Buy?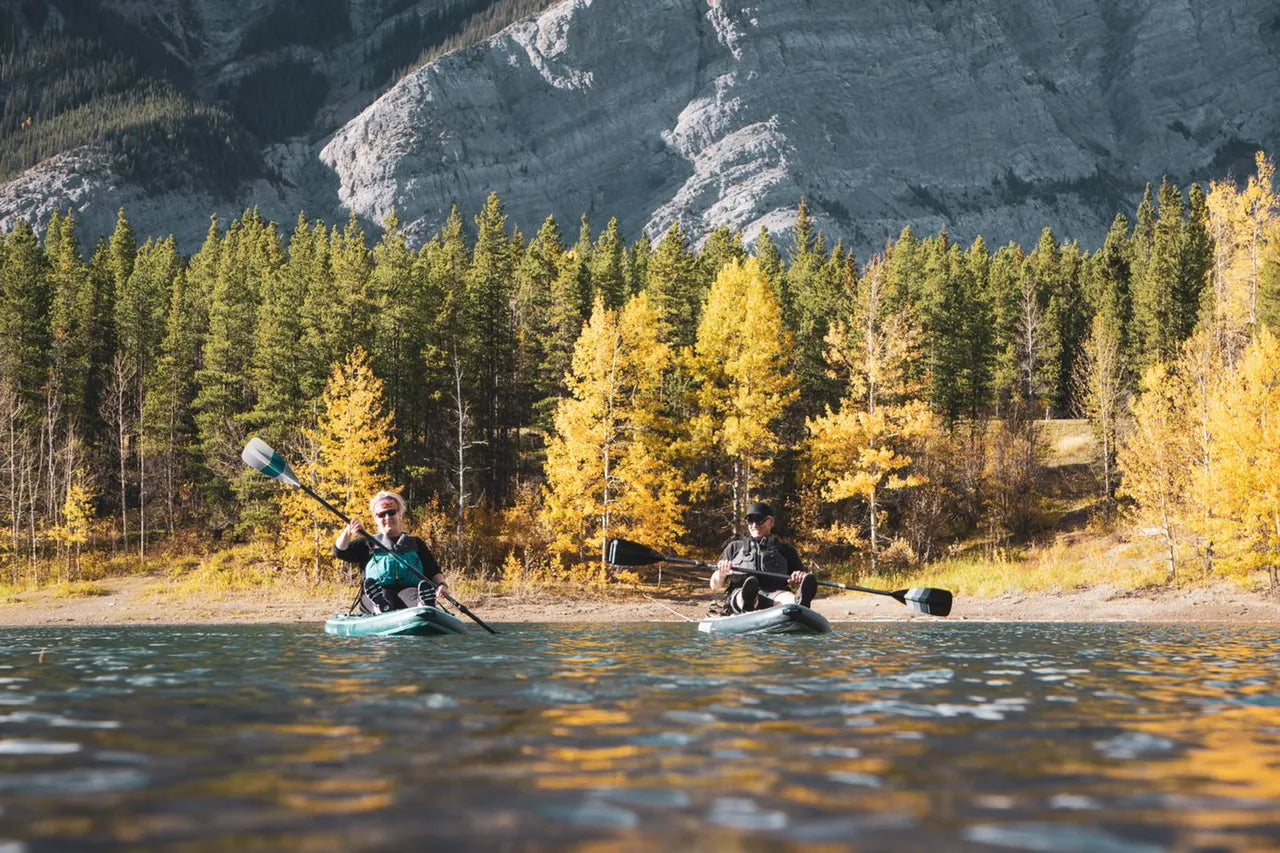 Picture this, you're out on the water, soaking up the sun, and laughing with your best pal as you both paddle your way through an aquatic adventure. Sounds like a dream, right? A 2-person paddle board can turn that dream into a reality. Learn more about a 2-person paddle board, key features to look for, and some top models to check out right here.
Why Should You Buy A 2-Person Paddle Board?
A 2-person paddle board is a fantastic investment for several reasons:
Shared Adventure: What's better than embarking on an exciting SUP excursion? Doing it with a friend, of course! A 2-person paddle board allows you to share the experience, making it twice as enjoyable.
Learning Together: If you're new to paddle boarding, learning with a partner can help you both improve your skills faster, as you can provide each other with tips, support, and encouragement.
Fitness and Fun: Paddle boarding is a full-body workout that's also a blast to do. With a 2-person board, you can challenge each other and make your workouts more engaging and enjoyable.
Versatility: These boards are designed to accommodate two people but can also be used solo, giving you the flexibility to paddle alone or with a partner.
Key Features to Look For When Choosing A 2-Person Paddle Board
There are several features to consider before you hit that "Add to Cart" button to ensure you're getting the perfect 2-person paddle board for your needs:
Stability
A stable board is the key to an enjoyable time on the water. Seek a board that's wide enough to provide optimal stability so you and your paddling partner can steady your sea legs while you explore the great blue.
Weight Capacity
You'll need a paddle board that can support the combined weight of you and your fellow adventurer, as well as any treasure or gear you plunder along the way. Most 2-person paddle boards support around 450lbs, but keep a keen eye on board specifications to ensure you're purchasing a SUP that will support your needs.
Maneuverability
Though a larger vessel offers more stability, steering can be a challenge. Look for a board that balances stability and maneuverability, so you can deftly navigate turns.
Accessories
Keep an eye out for boards equipped with useful accessories like dual paddles, a pump, and a carrying bag. These add-ons will enhance your SUP escapades, making them as smooth sailing as a calm day at sea, all while maintaining a professional touch.
Top 2-Person Paddle Board Models For You
Ready to make a splash with your new 2-person paddle board? Check out these top models that are perfect to double the fun:
BLACKFIN MODEL XL
The BLACKFIN Model XL is the best of SUPs, offering exceptional stability for tandem paddling. Its military-grade construction ensures durability, while the 485lbs weight capacity lets the two of you glide through the water with ease. If you're into long, leisurely paddles, fishing, or SUP yoga, it is your floating oasis.
BLACKFIN MODEL V
The BLACKFIN MODEL V is perfect for couples and adventurers who crave distance and speed. Made with triple-layer PVC composite and slim in design, the board glides through choppy waves like a knife through butter. It is also perfect for touring and exploring, making every SUP session an epic expedition.
BLACKFIN MODEL X
The BLACKFIN MODEL X is suitable for both beginners and experts. The design is extra focused on stability, with a wider base that provides comfortable room for both riders. The material is similar, triple layer PVC composite, but with an added carbon rail for supreme rigidity. Whether you're navigating calm lakes, tackling ocean swells, or trying out SUP fitness, the Model X adapts and excels.
iROCKER CRUISER
The iROCKER Cruiser features a sleek design with all the functions of a board for two. It features a wide base, moderate tail, and is made of triple-layer military-grade PVC with a drop-stitch core for smooth and steady rides. The Cruiser invites you to soak up the sun, enjoy the view, and enjoy the ride at your own pace.
Dive Into Another World of Paddle Boarding with iROCKER!
A 2-person paddle board is the ultimate way to double the fun of stand-up paddle boarding. If you are looking for a 2-person board to upgrade the fun with your buddy, look no further than iROCKER's extensive collection. With several fantastic models to choose from, you and your adventure partner will be well-equipped for a day of aquatic exploration. Embrace the fun vibes and make a splash together!