Paddle Boarding for Kids: Give Your Child The Best Time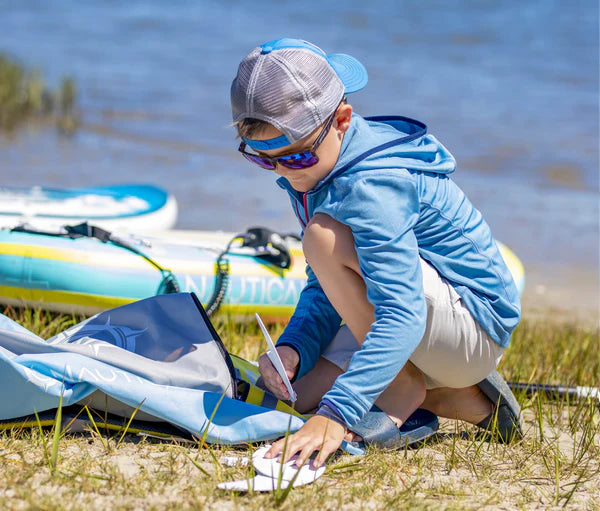 Are you planning a fun water adventure for your child? Choosing the right paddle board for them is a crucial decision that can make or break their experience. As a parent, you want to ensure that your child has a safe and memorable time out on the water. Let's explore what makes paddle boarding an excellent activity for kids, as well as the ideal kids' paddle board and SUP tips for young explorers. Let's get started!
What to Consider When Choosing The Right Paddle Board for Your Child?
There are multiple aspects to think about when selecting the correct paddle board for your child to guarantee a safe and memorable experience. Size and weight, stability and maneuverability, and fin setup are the three main considerations.
Size and Weight
You don't want to pick a board that is too large or heavy for your child to handle easily. An oversized or heavy board can not only make it challenging for your child to move around but also increase the risk of accidents. So, make sure to choose a paddle board that is small and light enough for your little one to manage with ease.
Stability and Maneuverability
To keep them from toppling over, paddle boards made for kids feature a wider and more stable foundation than adult boards. In order to help your child paddle effectively and navigate with ease, the board should also be easy to maneuver in the water.
Fin Setup
A paddle board's fin configuration affects the stability and tracking of the board in the water. Generally, larger fins generally offer better stability, making it easier for kids to control the board.
The Best Paddle Boards for Kids
As a parent, you want the absolute best for your little explorer, and this paddle board truly delivers on every level. For parents searching for a high-quality paddle board made just for kids, the NAUTICAL Kids inflatable paddle board is a fantastic choice. This scaled-down version of the well-known NAUTICAL paddle board is ideal for smaller riders, offering stability, safety, and maneuverability for both those beginning to paddle and those looking to advance their skills.
Performance is one of the standout features of the NAUTICAL Kids inflatable paddle board. It is ideal for teaching kids to SUP and is suitable for calm lakes, flat water, and marinas. If you're looking for more of a challenge, it's also excellent for ocean paddling. Children can acquire and develop their paddle boarding skills safely thanks to its stable design and perfectly sized paddle.
Additionally, transporting and storing this SUP is extremely simple. Families with limited space will love how effortlessly it deflates and rolls up for storage due to its inflatable design. The board is also lightweight, making it simple for kids to transport it to and from the ocean.
The NAUTICAL Kids inflatable paddle board is made using premium components that are stable and long-lasting. It has a non-slip deck that increases stability and safety, and it has three removable fins for stable performance in different types of water.
Overall, this board's compact size and "maximum fun" design make it ideal for little riders, while its reliable performance and stable design offer parents peace of mind.
Tips for Paddle Boarding with Kids
It can be enjoyable and rewarding to paddle board with children, but it's crucial to take certain precautions to guarantee everyone's safety.
Here are some pointers to assist you in getting ready for a fun paddle board journey with your child:
Preparing your child for their first paddle board experience: Familiarize your child with their paddle board before getting out on the water. Start on land, instructing them in the fundamentals of paddle boarding such as how to hold the paddle correctly and how to stay balanced on the board.
Safety precautions to take: When paddle boarding with children, safety should always come first. Make sure that your kid is wearing an appropriate PFD (personal flotation device) that fits properly and ensure you have all the required safety gear such as a whistle along and first aid kit. It's also critical to be conscious of your environment and any potential dangers in the water, such as currents or rocks.
Fun games and activities to do while paddle boarding with kids: Paddle boarding can be a wonderful way to strengthen your relationship with your kid and have fun together. Think about introducing some games or activities—a paddle board limbo contest or a scavenger hunt—to keep your kid engaged while out on the water. Additionally, you can take advantage of the occasion to educate your kid about the local ecosystems and wildlife.
Always put safety first, but don't forget to enjoy yourself and create some priceless memories with your kid while you're out on the water.

Check out our Floats & Towables for a fun game with your family.
Conclusion
Are you ready to introduce your little one to the wonderful world of paddle boarding? The excitement and joy that comes with gliding across the water with the wind in your hair is something every child should experience! And with the right paddle board for kids, your child can have a safe and enjoyable experience on the water.